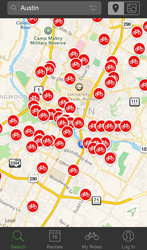 Austin, TX (PRWEB) October 22, 2014
Spinlister, the global bike share service, is putting roots in Austin, Texas, and investing in growing local peer-to-peer bike rentals. More than 150 bikes are already listed in Austin, and the company aims to have more than 1,500 bikes actively listed by March of 2015, just in time for the influx of SXSW show attendees from all over the world. Spinlister will be participating in local events and actively encouraging Austin residents and businesses to list their bikes and stand-up paddleboards (SUP) for rent as a great way to make extra money and meet other cyclists.
As Austin's population and popularity as a travel destination continues to grow, the demand for transportation and accommodations has increased as well. There are 1.9 million residents in Austin's metropolitan area and with more than 110 net new residents arriving in Austin daily, the city is estimated to exceed 3 million by 2050. The sharing economy is making its way to Austin with services like HomeAway, Uber and Lyft to help meet this high demand, and Spinlister intends to join these peer-to-peer services to help put dollars back in residents' pockets by establishing a dense inventory of rentable local bike and paddleboarding gear.
Over the coming months, Spinlister will build an inventory of local bikes and paddleboards by encouraging people to list their gear – especially the extra that goes unused. Within 90 seconds, anyone can list their bike, snow or surf (SUP) gear on Spinlister by snapping a photo, uploading it to the Spinlister mobile app or website and adding a rental price. All bikes are insured for theft or damage up to $10,000, so there's little to no risk to participate. Listing and renting local bikes and other equipment gives Austin residents and businesses an opportunity to earn extra revenue and meet other biking enthusiasts, especially since city events like SXSW, Austin City Limits Music Festival and Formula One bring hundreds of thousands of out-of-towners every year. For renters, bikes are listed geographically, allowing them to search and request a bike within their vicinity, as well as filter and find a ride from a greater variety of bicycle styles, sizes and types than typically found in any other rental setting. For example athletic cyclists can find name-brand bikes suited for long rides just as easily as an out-of-towner can find a cruiser to ride around Zilker Park.
"Austin is such a bike-friendly city that it made sense for us to invest and share our service here," said Spinlister Chief Marketing Officer Andrew Batey. "Many of our users around the world typically list their bikes because they want to promote cycling. It seems Austin's bike enthusiasts and Spinlister share the same core values: to encourage a bike-centric community. We look forward to being part of that community and appreciate the support we've already received from local leaders."
For more information on how to rent or list a bike or other gear on Spinlister, go to Spinlister.com or download the mobile app on your iPhone or Android.
About Spinlister
Launched on April 1st 2012, Spinlister is a peer-to-peer global bike share that allows users to rent and list bike, snow and surf gear from each other in over 100 countries worldwide. With their seamless web, iOS and Android apps, built-in security features, and a database of user reviews, Spinlister has won the trust of communities of cyclists, skiers, snowboarders, surfers and stand-up paddleboarders (SUP) all over the globe.
Media Inquiries
For more information, contact:
Nikol Schiller
INK for Spinlister
spinlister(at)ink-pr(dot)com
512.382.8984