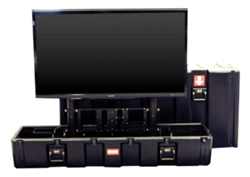 Fairfax, Virginia (PRWEB) October 24, 2014
As part of the Marine Corps Combat Operations Center Hardware Modernization Baseline, Trident Systems' RDD and VDS were selected as the key components to all field video services. This modular package integrates commercial off the shelf (COTS) 60" LED LCDs, new Internet Protocol (IP) streaming video and video wall software into a single system operated by a web browser. With this novel system, multiple applications, desktops and video sources can be combined, giving a single view of multiple sources to enhance decision-making and personnel safety.
"We are proud of the fact that this technology will be serving our Marines in the field," said James O'Looney, Business Area Director of the Integrated C4I Systems Group. "The RDD and VDS represent our company's focus in providing affordable leading-edge innovation to increase the effectiveness of our warfighters."
Trident's RDD meets MIL-STD-1472G for four-man lift and has several height adjustments for DoD-HDBK-743A compliance. The design incorporates a lift mechanism that can accommodate any VESA large screen display from 46" to 60". With the lateral adjustment feature, up to three RDD LCDs can be made adjacent for seamless interaction. When combined with Trident's VDS software, multiple screens can be viewed as a single video wall.
Unlimited expandability and flexibility were key elements of selecting Trident's video system for the Marine Corps technology update. Whether deploying one system with one display or multiple displays, the software architecture provides virtually unlimited expansion and configuration flexibility.
About Trident
Trident Systems is a veteran-owned small business that delivers innovative and affordable technology solutions for critical government and commercial needs. Founded in 1985, Trident continues to harness technology and provide leading-edge solutions to every Military Service, the Intelligence Community, and a broad spectrum of government and industry partners. Trident develops products in three primary focus areas: Integrated C4I systems, Radar Systems, and Assured Collaboration Systems. Trident also provides an array of services from Complex Systems Engineering services for complex system development as well as Collaboration Services, providing a full range of design / build services for state of the art facilities including supporting of the Integrated Air Defense System in the National Capital Region. Trident's has offices in Fairfax, Virginia (HQ), and Raleigh, North Carolina. For more information, visit http://www.tridsys.com/.