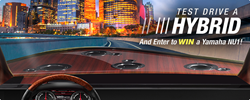 "Consumers who experience Yamaha hybrid pianos are simply amazed by both the sound and quality of these instruments," said Jim Levesque, Hybrid Piano marketing manager, Yamaha Corporation of America.
BUENA PARK, Calif. (PRWEB) October 22, 2014
Yamaha once again kicked off its national "Test Drive A Hybrid" promotion to acquaint more consumers with its groundbreaking series of "hybrid" pianos.
The growing family of instruments—namely, the AvantGrand N3, N2 and N1, and the NU1 upright—are the only pianos of this type on the market. They are remarkable in that they digitally simulate the sound and experience of playing a fine concert grand piano—at a fraction of the cost, size and weight. The pianos feature exquisite craftsmanship, cabinetry and detailing, while offering a highly affordable, space-saving option to serious musicians who simply want a no compromise performance experience. Plus, they never need tuning.
The new promotion, running now through Dec. 31st, invites music lovers to visit a participating dealership to "test drive" any qualifying Yamaha hybrid piano to receive a Sweepstakes entry card with a unique entry code. They can enter the Sweepstakes online using the code and have a chance to win a free NU1 hybrid piano ($6,499 MSRP). Four runners-up will each receive a set of Yamaha HPH-PRO300 headphones ($199.95 MSRP). Entries must be submitted by January 15, 2015.
Customers who purchase a Yamaha hybrid piano between now and December 31, 2014 will qualify for a free Yamaha NP-11 Piaggero Portable Digital Piano ($269 MSRP) after completing an online rebate form.
The promotion will also involve social media, including an exclusive Sweepstakes on the YamahaKeysUS Facebook page. Anyone who comments on the "Test Drive A Hybrid" program will be eligible to win one of the $100 gift cards that will be awarded each month throughout the run of the promotion.
Based on the success of a similar "Test Drive a Hybrid" program last fall, Yamaha decided to offer the promotion once again to potential customers.
"Consumers who experience Yamaha hybrid pianos are simply amazed by both the sound and quality of these instruments, yet we realize that there are many who aren't yet aware of this new category of instrument," said Jim Levesque, Hybrid Piano marketing manager, Yamaha Corporation of America. "To meet that challenge, we developed the 'Test Drive A Hybrid' promotion to introduce our line of hybrid pianos to a broader segment of the public. As was the case with the last 'test drive' campaign, we're confident that interest and sales will be driven into high gear once customers get a chance to take one of our hybrids for a spin."
Yamaha's hybrid pianos are further defined by the integration of sound sampled from Yamaha's finest CFIIIS and CFX concert grand pianos, with an authentic acoustic piano action and natural wood keys that will satisfy the most discerning musicians. In addition, these pianos can be played at any volume or silently through headphones.
The instruments have drawn high praise from music critics, including Keyboard Magazine and the New York Times, which hailed Yamaha hybrids for bringing "the beauty, clarity and expressiveness of real pianos into the digital age."
Yamaha's Levesque added that while the benefits of digital pianos are well known, a major area of concern for some piano lovers has always been the "feel" of the instrument, so what better way to address that than to invite consumers to visit a dealer and get a "feel" of the hybrids themselves.
"Yamaha hybrid pianos combine our rich history of acoustic piano craftsmanship with deep experience in digital engineering," Levesque explained. "However, it is the actual acoustic piano action of these instruments that will provide a playing experience that even the most critical of piano purists will enjoy."
To find out more about the "Test Drive A Hybrid" program or to locate an authorized Yamaha dealer, visit the Sweepstakes page at 4wrd.it/tdah14
END
About Yamaha
Yamaha Corporation of America (YCA) is one of the largest subsidiaries of Yamaha Corporation, Japan and offers a full line of award-winning musical instruments, sound reinforcement and home entertainment products to the U.S. market. Products include: Yamaha acoustic, digital and hybrid pianos, portable keyboards, guitars, acoustic and electronic drums, band and orchestral instruments, marching percussion products, synthesizers, professional digital and analog audio equipment, Steinberg recording products and Nexo commercial audio products, as well as AV receivers, amplifiers, Blu-ray/CD players, iPod docking systems, earphones, headphones, home-theater-in-a-box systems, sound bars and its exclusive line of Digital Sound Projectors. YCA markets innovative, finely crafted technology and entertainment products and musical instruments targeted to the hobbyist, education, worship, professional music, installation and consumer markets.
Contact: Peter Giles/Giles Communications
(914) 798-7120 (pgiles(at)giles(dot)com)