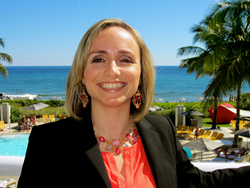 I know there are so many foreign brands that would like to bring their products to the United States but are afraid to do so due to fear of the FDA review process
Boca Raton, FL (PRWEB) October 23, 2014
Contining on a path of planned growth and expansion, Nutritional Products International is proud to name Rosemarie Sunderland as its Food and Drug Administration Compliance Expert. Sunderland will help companies, with health, nutritional, and beauty brands, make sure their product labels and formulas are acceptable for sale in the United States market.
"One of the first questions foreign companies ask about is FDA rules and regulations," said Mitch Gould, Nutritional Products International CEO. "There's a lot of uncertainty and fear about making a mistake. Having a Food Scientist, like Sunderland, on our staff, is an incredible resource for our clients."
Sunderland has been a consultant in the Food Industry, specializing in product development and nutrition/supplement labeling for more than 10 years. She has extensive experience in taking products from concept to market.
"It's my pleasure to join Nutritional Products International," said Sunderland. "I know there are so many foreign brands that would like to bring their products to the United States but are afraid to do so due to fear of the FDA review process."
Having a product rejected by the FDA could result in fines, having to reprint labels, or recalls. In order to avoid these costly mistakes, ingredients, label claims, and terminology must be carefully reviewed. Over time, regulations can also change.
"This is clearly a case where knowledge is power and we're proud that we're able to empower our foreign clients," said Gould. "The nightmare of having products taken off the shelves can be real and we're positioned to ensure that our clients will sleep soundly at night."
Nutritional Products International provides companies worldwide with distinctive sales and marketing solutions through its Evolution of Distribution system. This enables their products to enter and be successful in the U.S. market. NPI maintains close relationships with key buyers across the U.S, providing foreign brands with a fast track to the world's biggest marketplace. It's all done in a very cost effective and profitable manner. NPI obtains orders for client products from some of the largest distributors and retailers in the United States, increasing sales in the Dietary Health Supplement, Functional Food, Skin Care, and Nutritional Beverage Industries.
For more information, visit http://www.nutricompany.com