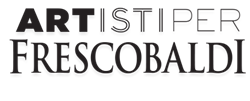 (PRWEB) October 24, 2014
Marchesi de' Frescobaldi, the 700 year-old winemaking company from Tuscany, announced Berlin-based artist Michael Sailstorfer as the winner of its second annual program in support of contemporary art, "Artisti per Frescobaldi." The ceremony took place at the Schinkel Pavillon in Berlin on October 9th.
The judging panel comprised renowned personalities of the contemporary art world in Italy and Germany, including Dirk Luckow (Deichtorhalle, Hamburg), Angelika Nollert (Neues Museum, Nuremberg), and Letizia Ragaglia (Museion, Bolzano). Contestants Michael Sailstorfer and Jorinde Voigt (Germany) and Yuri Ancarani (Italy), three talented up and coming artists of the contemporary art scene, created pieces inspired by the Nipozzano Castle, the historical estate near Florence owned by the Frescobaldi family. Sailstorfer's winning piece, 'Akt 1-5, 2014,' depicts a man drawing with a bottle of Frescobaldi wine.
Designed by the art director Tiziana Frescobaldi and curated by Ludovico Pratesi, the "Artists for Frescobaldi" award represents the Frescobaldis' longstanding patronage of the arts. The family has been linked to art and artists for 700 years, including past connections with Donatello, Michelozzo Michelozzi, and Filippo Brunelleschi. With "Artists for Frescobaldi," Tiziana Frescobaldi hopes the tradition is carried on for years to come.
"Our family is very proud of this program; it shows dedication to continuing our long passion for the arts. We're happy to support young emerging artists, especially in these challenging times," said Tiziana Frescobaldi. Commenting on the art works, Ludovico Pratesi added: "As the curator I would like to congratulate the three artists for the great quality of their projects. I am pleased with the choice of the jury as 'Akt 1-5, 2014' is mature and full of symbolic meanings."
In addition, the three artists designed one label each for a limited-edition 2011 Montesodi, a single-vineyard Toscana IGT produced by Frescobaldi in the Nipozzano estate. Each label will adorn 333 of the 999 globally available Magnum bottles.
The art works will be exhibited at Fondazione Stelline in Milan (January 15th to 17th 2015), then transferred to the Nipozzano estate in Tuscany.
For more information about the Artisti per Frescobaldi Award, visit:
http://www.artistiperfrescobaldi.com/2014-Edition/artisti_frescobaldi/ENG/M-METOP-E2014/
About Marchesi de' Frescobaldi – http://www.frescobaldi.it
Marchesi de' Frescobaldi, the leading wine producer in Tuscany and one of the most historic and respected wine companies in the world, combines centuries of tradition with progressive winemaking techniques and practices. Founded in the 14th century and a supplier of wines to the royal courts of Europe for generations, Marchesi de' Frescobaldi is still, 31 generations later, a family-owned company. Comprised of nine distinct estates totaling approximately 1,100 hectares, Marchesi de' Frescobaldi produces wines utilizing only the grapes grown in its own vineyards. The company continually upgrades and modernizes its grape growing and winemaking operations, maintaining a relentless focus on producing unique wines that express the individuality of each unique terroir from which they are produced.