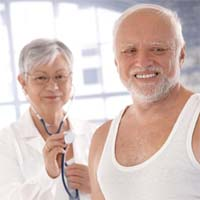 The adoption of PMT following cisplatin-based induction chemotherapy appears very promising.
Raleigh, NC (PRWEB) October 25, 2014
Mesothelioma researchers are reporting extended survival in a mesothelioma patient who continued to receive pemetrexed (Alimta), after his combination drug therapy became too toxic. Click here to read the full story, just posted on the Surviving Mesothelioma website.
A new case study from Uji Tokushukai Medical Center in Japan suggests that "maintenance therapy" with pemetrexed may be the answer for mesothelioma patients who cannot tolerate higher doses of cisplatin.
"Although the standard of care for malignant pleural mesothelioma is the combination of cisplatin and pemetrexed…the adoption of PMT following cisplatin-based induction chemotherapy appears very promising," writes researcher Dr. Takayuki Takeda.
The 69-year old man whose case is detailed in Internal Medicine saw a partial response with combination therapy but a complete response with continued rounds of pemetrexed.
"This study is especially important because mesothelioma patients who fail to achieve satisfactory results with standard chemotherapy have very limited options," says Surviving Mesothelioma's Managing Editor, Alex Strauss. "There is no established second-line chemotherapy treatment for mesothelioma."
To learn more about pemetrexed and its potential for extended survival in mesothelioma, see Alimta May Extend Mesothelioma Survival as a Maintenance Therapy, now available on the Surviving Mesothelioma website.
Takeda, T et al, "Long Progression-free Survival by Pemetrexed Continuation Maintenance Therapy Following Cisplatin-based Chemotherapy in Malignant Pleural Mesothelioma", Internal Medicine, October 15, 2014, Epub ahead of print, https://www.jstage.jst.go.jp/article/internalmedicine/53/20/53_53.2094/_pdf
For nearly ten years, Surviving Mesothelioma has brought readers the most important and ground-breaking news on the causes, diagnosis and treatment of mesothelioma. All Surviving Mesothelioma news is gathered and reported directly from the peer-reviewed medical literature. Written for patients and their loved ones, Surviving Mesothelioma news helps families make more informed decisions.