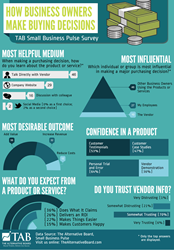 Third party validation is imperative when it comes to convincing business owners to sign on the dotted line. It removes the guesswork and some of the potential risk associated with making a large purchase. - David Scarola
Denver, CO (PRWEB) October 23, 2014
Entrepreneurs are a varied group of people, but there's one thing that 93% of them can agree on: reviews and analysis drive major purchasing decisions for their businesses, according to new survey results released today by The Alternative Board (TAB). The survey, which focuses on B2B sales and what motivates business owners to make major purchases, also revealed that entrepreneurs prefer a hands-on approach to testing out new products and services. In fact, 64% prefer personal trial and error - almost double the 36% who feel comfortable with a vendor demo alone.
"Business owners need something tangible they can believe in before making a purchase," says David Scarola, Vice President of The Alternative Board. "By interacting with the product or service in advance, they can form their own opinions based on what they experience, and either develop a relationship with the brand or end it before it even begins."
The preference for a hands-on trial may also speak to a lack of trust between business owners and vendors: only 6% of survey respondents said they are "very trusting" of information received from vendors. Over half of business owners surveyed believe the information they receive from vendors is too sales-oriented. How can B2B-based companies begin to gain trust with their target market, when entrepreneurs are so skeptical?
To start, B2B companies looking to make a sale may want to consider making their product widely available for review. According to TAB's survey, 68% of business owners are more likely to trust a vendor after engaging with an independent review of the product or service. Word of mouth is also highly influential - 46% of entrepreneurs surveyed reported that business owners using the product or service have the greatest influence on their buying decision. Vendors should place a premium on developing an enthusiastic group of references that prospects can speak to.
"Third party validation is imperative, when it comes to convincing business owners to sign on the dotted line," says Scarola. "It removes the guesswork and some of the potential risk associated with making a large purchase. A recommendation from a trusted peer adds familiarity to the unknown."
TAB is the world's largest peer advisory and coaching franchise. The global network provides business owners with the tools and resources to improve productivity, profitability and personal fulfillment. Click here to find a TAB Advisory board in your area.
To read a full review of the survey's findings and learn more about what they mean for your business, visit http://www.TheAlternativeBoard.com. To review the raw survey data, or to schedule an interview with David Scarola, contact Lynn Maleh at lynn(at)contentfac(dot)com.