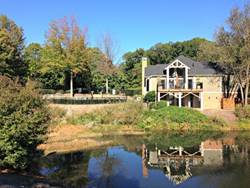 We see the acquisition of Waterford Point to be another important step in building PointOne Holdings' diversified portfolio of multifamily and commercial properties in the Southeastern US
Hollywood, Florida (PRWEB) October 28, 2014
PointOne Holdings, a real estate investment group with offices in Hollywood, Florida, and Atlanta, Georgia, today acquired Madison at Waterford Apartments, a 344-unit, B-Class, garden-style, multifamily rental community for $18.65 million.
PointOne Holdings will rebrand the community as Waterford Point. The complex is located in the Atlanta metro area in the city of Lithia Springs and features drive-by exposure to more than 60,000 vehicles per day on Thornton Road. Built in three phases between 1989 and 1992, the property is 93 percent occupied and is minutes from downtown Atlanta, Hartsfield-Jackson International Airport and some of the region's predominate economic assets.
Encompassing 46 acres, Waterford Point presents an inviting park-like setting with an entrance lake. Best-of-class amenities include two pools, two tennis courts, fitness center, indoor racquetball court, a car care center, detached garages, picnic areas and a walking trail. The property's well-designed units average a spacious 905 square feet and feature bay windows, entry foyers with closets, patio/balconies, large closet spaces, fully equipped kitchens, washer/dryer connections, exterior storage, gas fireplace and sunrooms in select units.
PointOne Holdings obtained $14.65 million Freddie Mac financing through Walker & Dunlop to complete the acquisition. The transaction, including financing, successfully closed in 60 days.
The company plans to invest $2.4 million in capital improvements to the property. The renovation plan includes upgrades to unit interiors, roof replacements, mechanical/plumbing enhancements and improved curb appeal. Additionally, PointOne Holdings will improve the amenities package by adding a business center, a dog park, security gate and outdoor BBQ grills.
"Waterford Point has tremendous potential, and we look forward to turning it into one of the finest communities in the area" said Leo Peicher, managing member of PointOne Holdings. "In this deal, we see a clear opportunity to add value for both our residents and investors through a cost-effective capital improvement plan focused on upgrades to the unit interiors as well as exciting enhancements to the property's amenity package."
"We see the acquisition of Waterford Point to be another important step in building PointOne Holdings' diversified portfolio of multifamily and commercial properties in the Southeastern US" said David Garfinkle, one of PointOne Holdings' managing members.
"As a repeat Freddie Mac and Walker & Dunlop borrower, PointOne Holdings used the Early Rate Lock execution to lock in their loan terms to eliminate risk to their investors," commented Stephen Farnsworth, Managing Director of Walker Dunlop. "Walker & Dunlop is excited to continue to grow our relationship with PointOne Holdings as they continue to identify and execute on value add investments such as Waterford Point."
About PointOne Holdings
PointOne Holdings is an investment and operating platform composed of highly skilled real estate professionals and entrepreneurs with a unique ability to originate, structure, underwrite, close, asset manage and reposition under-performing and value-add multifamily residential and commercial real estate. With offices in Atlanta and South Florida, the firm has the resources, experience and strategic relationships required to access, acquire and operate a broad range of investment opportunities throughout the southeastern United States.
The principals of PointOne Holdings have collectively owned and operated more than 9,000 multifamily apartment units and more than two million square feet of commercial property. PointOne Holdings currently owns and manages a diversified portfolio of residential, commercial and hospitality assets with a value of more than $200 million.