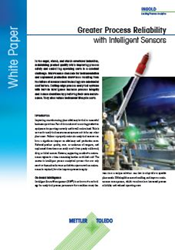 Urdorf, Switzerland (PRWEB) October 27, 2014
In the sugar and starch industries, maintaining product quality while improving process safety and controlling operating costs is a constant challenge. Maintenance demands for instrumentation and unplanned production downtimes resulting from the failure of measurement technology are substantial cost factors. Cutting-edge process analytical systems with built-in intelligence increase process integrity and reduce downtime by predicting their own maintenance. They also reduce sensor lifecycle costs.
METTLER TOLEDO explains in a white paper how its Intelligent Sensor Management (ISM®) technology's numerous features and benefits mean that increased measurement accuracy, reliability of signal transmission, fast error-free sensor commissioning and real-time diagnostics information combine to create a powerful tool for improving process control and maximizing process equipment availability.
Topics include:

Why modern process analytics equipment with Intelligent Sensor Management (ISM®) is highly reliable.
How ISM can be tailored to your requirements and simplifies sensor maintenance.
How ISM's predictive diagnostics features can be integrated into your process control system.
The white paper is available to download from http://www.mt.com/pro-wp-sugar-starch
ABOUT METTLER TOLEDO PROCESS ANALYTICS
METTLER TOLEDO's Process Analytics division develops and manufactures instrumentation and sensors used for liquid process measurement, and measurement in pure and ultrapure water applications. Their product portfolio covers measurement of pH, dissolved and gaseous oxygen, dissolved ozone, oxygen reduction potential (ORP), resistivity/conductivity and total organic carbon (TOC). METTLER TOLEDO Process Analytics consists of two business units, Ingold and Thornton, whose products are commonly used in industries such as

Pharmaceutical and biotechnology
Chemical process and refining industries
Brewing, food and beverage production
Power and steam generation plants
Microelectronics manufacturing
For additional information, visit http://www.mt.com/pro