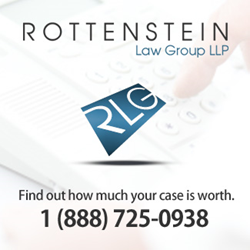 Rockville Centre, NY (PRWEB) October 23, 2014
A new transvaginal mesh lawsuit (http://www.meshlawsuithub.com) website has been launched by the Rottenstein Law Group, LLP, a personal injury law firm actively filing claims on behalf of women who may have sustained injuries from transvaginal mesh.
The website will include critical information about the process of filing a case that alleges pain in the pelvic and vaginal areas, painful intercourse, cramping, infection, pelvic organ perforation and other serious complications associated with mesh erosion. Women may also find updates on the growing nationwide litigation of vaginal mesh lawsuits. According to court documents, at least 40,000 claims involving this class of devices, which are used in the treatment of pelvic organ prolapse (POP) and stress urinary incontinence (SUI), are currently pending in federal and state courts throughout the U.S.
Transvaginal mesh products are of special interest to women recently, and many women who have filed claims for compensation are beginning to recover money. For instance: According to a report filed with the United States Securities and Exchange Commission, C.R. Bard, Inc., manufacturer of the Avaulta line of mesh products, has settled more than 500 pending lawsuits involving that product line.* (MDL-2187; U.S. District Court for the Southern District of West Virginia). The filing also states that, "In addition, the company continues to engage in discussions with other plaintiffs' law firms regarding potential resolution of unsettled [claims]."*
The FDA first released a public health notification cautioning doctors about the risks associated with surgical mesh in 2008. Issued in response to surgical mesh manufacturers' receipt of "over 1,000" adverse-event reports associated with attempts to remedy Pelvic Organ Prolapse (POP) and Stress Urinary Incontinence (SUI) by placing surgical mesh transvaginally (that is, through a woman's vagina as opposed to through her abdomen), the notification stated that such complications were serious, but "rare." Between the 2008 release of that Health Safety Communication and 2010, serious complaints about complications related to the use of surgical mesh to treat POP increased five-fold, according to the FDA. Moreover, the agency's systematic review of the relevant scientific literature published from 1996 to 2011 "showed that transvaginal POP repair with mesh does not improve symptomatic results or quality of life over traditional non-mesh repair." Accordingly, the FDA issued a safety communication on July 13, 2011, announcing that "serious complications associated with surgical mesh for transvaginal repair of POP are not rare."
The Rottenstein Law Group LLP encourages any woman who believes that she has been injured by a drug or medical device to visit the firm's new site for valuable information. Visitors are invited to request a no-cost case evaluation by filling out the confidential form found on the site.
*http://www.sec.gov/Archives/edgar/data/9892/000119312514280278/d732355d10q.htm#tx732355_3
About The Rottenstein Law Group LLP
The Rottenstein Law Group LLP is a New York-based firm that represents clients nationwide in mass tort actions. The firm was founded by Rochelle Rottenstein, who has more than two decades of experience as a lawyer, to represent clients hurt by defective medical devices and medications. (Attorney advertising. Prior results do not guarantee a similar outcome.)
Contact:
The Rottenstein Law Group LLP
Rochelle Rottenstein, Esq.
100 Merrick Road # 266
Rockville Centre, NY 11570
(212) 933-9500 (office phone)
(212) 933-9980 (facsimile)
rochelle (at) rotlaw (dot) com
plus.google.com/106070664376281033016