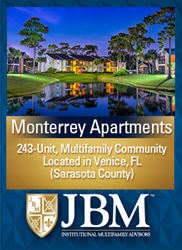 Tampa, FL (PRWEB) October 29, 2014
JBM™ launched to market Monterrey Apartments, having sold the Property multiple times in the past Chairman and CEO, Jamie May presents investors with encyclopedic knowledge on the Property and the opportunity to acquire an extremely well-maintained, stable asset below replacement cost. The Property offers new ownership the opportunity to capitalize on rental rate increases from improving Sarasota county apartment market metrics.
Completed in 1988 and remodeled in 2014, Monterrey is a garden-style apartment community, clad in an attractive brick facade with wood architectural accents. Only minutes from I-75, Gulf Coast beaches, shopping, dining and recreation, the Property is a tranquil retreat tucked away in a secluded, tropically landscaped, 23.12-acre setting. Venice, Florida is a coastal community along the Gulf Coast of Florida and is home to a thriving downtown with a historic Mediterranean theater, boutique shops, restaurants, and nightlife. The city also features breathtaking natural beauty, fabulous beaches, several marinas and championship golf courses.
About JBM™ Institutional Multifamily Advisors
JBM™ Institutional Multifamily Advisors is the most reliable source of brokerage services in the institutional multifamily asset and investment industry with Florida offices located in Tampa, Orlando, and Naples. JBM™ specializes in the sale of high-rise, mid-rise and garden style apartment communities throughout the Southeast United States and focuses exclusively on asset disposition services, capitalization and recapitalization of existing and merchant development opportunities of large apartment type portfolios and singular assets for Domestic and Foreign Institutional, Private National and Regional clientele.
The firm's collective team efforts have exceeded $8.9 Billion and over 102,000 apartment units listed, marketed and sold. The firm delivers a strong legacy of excellence in representation and the most effective investment sales platform throughout the Southeast United States, meriting Jamie May and JBM™ as a trusted leader in the multifamily industry.
If you would like more information about this property or to schedule an interview with Jamie May, Chairman & CEO or Eddie Yang, Principal and Executive Director please, contact Claudia Raines at 813.812.5003 or email. To learn more, please visit: JBM.com