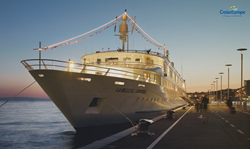 Phoenix, AZ (PRWEB) October 25, 2014
CroisiEurope, Europe's largest river cruising company, added 12 videos to its website, each virtually exploring a unique CroisiEurope cruise to cities such as Croatia, Italy, Paris, Venice, Portugal, and Vienna.
The videos reveal the architectural masterpieces, natural wonders, historical sites, and hidden treasures that CroisiEurope cruisers will observe in order to fully experience the region's culture.
The cruise along the romantic Rhine Valley, a journey from Strasbourg to Amsterdam, appeals to various types of travelers. Cruise guests will see the intricately designed Notre Dame Cathedral, taste exquisite wines in Rudesheim, visit Siegfried's Musical Cabinet Museum, and explore the Tulip Fields in the Netherlands. The cruise ends in Amsterdam; a modern city, rich in culture, beautiful museums, and nightlife so our guests can celebrate the last port of their cruise.
Throughout each cruise, CroisiEurope's ships offer superb Michelin starred French Cuisine, unlimited beverages including spirits, wine, beer and more. Every vessel provides it's passengers with ultimate comfort, free wifi, and elegant surroundings.
To watch the videos, visit http://www.croisieuroperivercruises.com/videos.
About CroisiEurope
Since 1976, CroisiEurope has been cruising on the most beautiful waterways in Europe. While known as Europe's largest and most experienced river cruise line, it is also independent and family-owned. Its fleet of 43 ships travel to riverside cities in France, Italy, Spain, Germany and Belgium where passengers can explore and enjoy local food, wine, history, art and culture. Each ship features top amenities, ultimate comfort, and professional staff members that ensure passengers have the best experience possible. For more information, visit http://www.croisieuroperivercruises.com/.