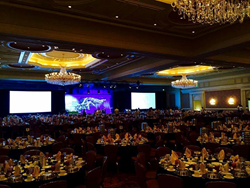 Salt Lake City, Utah (PRWEB) October 24, 2014
On Tuesday, the MountainWest Capital Network unveiled its 2014 Utah 100 Awards Program recipients, including NorthStar Alarm at number 68, the company's first appearance on the list. The Utah 100 is in its 20th year of operation and continues to recognize the fastest growing companies in Utah, based on successful revenue growth in the past year.
"It's an honor to be recognized alongside so many great Utah companies" said Jason Christensen, President of NorthStar Alarm. "We are excited and motivated to continue being one of the fastest growing companies in the state."
Christensen was among the group of innovative business leaders yesterday at the Grand America Hotel, where he accepted the MWCN Utah 100 award on behalf of NorthStar Alarm.
"It is our pleasure to honor these inspiring Utah businesses," said Reed Chase, an audit partner at Tanner LLC and President of MWCN. "We have been very fortunate to watch and celebrate the true success stories in Utah. We can expect great things from these 2014 companies in the future."
About NorthStar Alarm
NorthStar Alarm is one of the fastest growing home security and automation companies in North America. For more than a decade, NorthStar has been providing families with peace of mind, while staying true to the core values of integrity, accountability, and service. NorthStar Alarm is now serving nearly 40,000 customers nationwide, and has the equipment, relationships, and reputation that you can count on. Visit NorthStarHome.com for more information.
About MountainWest Capital Network
MountainWest Capital Network (http://www.mwcn.org) is Utah's first and largest business networking organization devoted to supporting entrepreneurial success, and dedicated to the flow of financial, entrepreneurial and intellectual capital. LIKE us on Facebook and follow us on Twitter @MWCN and LinkedIn.