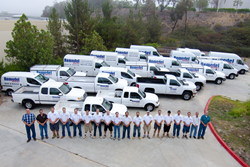 When we say we handle and coordinate every single detail of your bath and kitchen remodel, we're not exaggerating. We don't operate in the GREY AREA. We don't do uncertain. We don't do half-way there. And we absolutely don't do unsatisfied customers.
San Diego, CA (PRWEB) October 24, 2014
Remodel Works Bath and Kitchen, established in 1984, is celebrating their 30th anniversary of San Diego remodeling this month. Remodel Works is a design-build firm that specializes in kitchen remodeling and bathroom remodeling and has been servicing the local San Diego community for the last thirty years. The company was started in humble beginnings by Joe Christenson, owner and president of Remodel Works, who began with a vision to create a company that could provide quality, honest service to those in his community. Part of the vision of Remodel Works is that in an industry where the company is responsible for a family's most valuable possession, their home, it is of the utmost importance to treat their home as if it were one's own. This consideration and concern for the customer is the core value that this company has represented for the last three decades.
With a deliberate start, Remodel Works has been working throughout the years to build a client base of San Diegans who want to remodel their homes with outstanding results. To accomplish this Remodel Works has created a process making it easy for customers to feel comfortable with people working in their home and ensuring that service promises are being kept. Customer needs and wants are a primary focus for the company, a main contributor to their ability to last in the industry. Remodel Works has been recognized by Angie's List and other reliable sources, making it clear they are a force to be reckoned with within the industry. Through years of dedication to their vision, the company has been growing steadily having serviced over 8,000 homes and counting.
Remodel Works has a full staff of skilled designers and experienced technicians that are dedicated to the company's vision. As a community member, Remodel Works Bath and Kitchen values employing people who share the same ideals and pride themselves in being able to support a number of families in San Diego. By continuously striving to provide the best service possible and promoting growth in the company, Remodel Works has been continuously contributing to promoting a healthy local economy. In addition, Remodel Works Bath and Kitchen has been involved in philanthropic efforts in order to become a larger part of the local community. From Toys for Tots to a more recent philanthropic commitment, the 100 Wave Challenge, Remodel Works strives to get the company involved on every level.
Companies come and go in such a competitive environment and there is something to say about businesses that are able to hang tough through economic downturns and changing environments. Standing strong for thirty years is an accomplishment that would not be possible without hardworking employees and satisfied customers who promote their quality experiences. There is no lack of testimonials on the web to support this company's continued success. One customer raves, "The finished results are beyond our expectations. The professional treatment we received from your employees is a rarity these days". Customer service is another point the company focuses on that is recognized frequently by customers, "Our bathrooms are beautiful to say the least and very accommodating for us, considering our physical needs. Your men were all gentleman and concerned for me in every way; and also concerned about the work they do on the job and that's refreshing". With such an apparent commitment to quality and customer service, it is no wonder Remodel Works Bath and Kitchen has remained a strong force for the last thirty years and quite possibly the next.