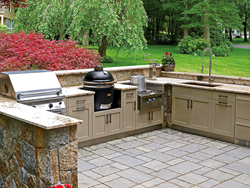 (PRWEB) October 29, 2014
Danver Stainless Outdoor Kitchens and Walpole Outdoors today announced 'Made in America' manufacturing is gaining popularity throughout the United States. As consumers are spending more time outdoors from summer into late fall—and investing in creating their ultimate backyard 'haven'—the need to provide them with a one-stop destination for beautiful, high-quality outdoor kitchen appliances and lifestyle amenities has become crucial.
'Made in America' manufacturing is important because it yields shorter lead time. It also means more production efficiency and quality control since companies have complete influence over managing the entire process from design and construction to shipping.
However, many efforts by businesses to bring previously outsourced manufacturing back to the U.S. are proving to be more complex than initially thought. Yet, success for 'Made in America' manufacturers like Danver Stainless Outdoor Kitchens and Walpole Outdoors is largely based upon history for hiring highly skilled workers who have true passion and pride for the products they develop from beginning to end.
Danver Stainless Outdoor Kitchens
Danver Stainless Outdoor Kitchens, the nation's premier stainless outdoor kitchen manufacturer based in Wallingford, Conn., is dedicated to emphasizing the ever-important role of bringing the economy back to its one-time glory days by manufacturing well-made products in the U.S.
"With 15 years of experience manufacturing domestically-made stainless steel outdoor cabinets, our company strives to provide designers and homeowners with a multitude of options and quality products to choose from that are manufactured right here in the U.S.," says Mitch Slater, president of Danver Stainless Outdoor Kitchens.
Manufacturing products in the U.S. also enables the company's customers to choose from an array of products and colors that meet their needs in a timely manner. "Every kitchen is made-to-order. It's virtually impossible to stock cabinets like you would need to do with an overseas line to meet the required delivery schedule," says Slater.
From concept to the final design, the Danver factory team strives to reach new heights in handmade American quality stainless products.
Walpole Outdoors
Walpole Outdoors, a leading manufacturer and distributor of distinctive architectural landscape products and structures, has retained all wood-sourcing, milling and manufacturing processes in America since its inception in 1933. Maintaining a domestic workforce for more than 80 years ensures a dependable and lasting method, a challenge now facing other facets of the long-dormant American manufacturing industry. With a name representing the small town where established, Walpole Outdoors has turned what once was a small woodworking venture into an iconic American outdoors brand.
"Walpole Outdoors made a conscious decision not to move our business overseas because our company's success is largely based upon the solid work ethic of hardy New Englanders," says Lou Maglio, president of Walpole Outdoors.
Today, Walpole Outdoors proudly employs more than 100 skilled craftsmen who were displaced from a local paper mill and shoe factory that shifted to overseas production. Every piece of Walpole Outdoors' arbors, pergolas and fencing is the product of generations of perfected woodworking technique, as Walpole Outdoors continuously refused to outsource work overseas. Walpole Outdoors' American hand-made pride garners a loyal customer base and continues to grow as a 'Made-in-America' brand.
About Danver Stainless Outdoor Kitchens
Headquartered in Wallingford, Conn., Danver Stainless Outdoor Kitchens is the leading manufacturer of stainless steel outdoor cabinetry designed to fit most outdoor appliances including grills, bartending centers and refrigerators. With exclusive door styles and powder coated finishes in designer colors, Danver cabinets are virtually maintenance-free in all climates and weather conditions. Danver also offers American-made stainless steel appliances designed to maximize enjoyable outdoor entertainment. For more information on Danver Stainless Outdoor Kitchens, please visit http://www.danver.com.
About Walpole Outdoors
Established in 1933, the Walpole, Mass.-based company manufactures and distributes distinctive, architectural landscape products and structures that extend the comforts of your home. Its manufactured products include a broad range of cellular PVC and Northern White Cedar products. The extensive line of Walpole Outdoors® products includes fences, gates, pergolas, railings, arbors, exterior home and garden décor, wooden play sets and much, much more. With over 80 years of delivering beautiful outdoor environments through superior craftsmanship and service. For more information, visit http://www.walpolewoodworkers.com.