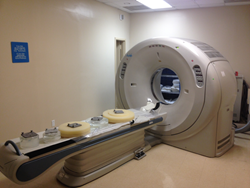 Houston, TX (PRWEB) October 26, 2014
The assets of St. Anthony's Hospital in Houston, Texas will be sold at auction by order of the United States Bankruptcy Court. All medical equipment in the 45 bed acute care hospital will be sold, as well as some non-medical items.
The auction will be on Tuesday, November 4, starting at 9am CST. Since the auction is a simulcast auction with no on-site bidding, interested buyers must register on Centurion Service Group's website, http://www.centurionservice.com. Those who would like to inspect the equipment before bidding may do so from 8am-3pm on Monday, November 3 at St. Anthony's Hospital located at 2807 Little York Rd., Houston, TX 77093.
More than 1,300 pieces of medical equipment will be sold including a Toshiba Aquillion 16 slice CT scanner, a Siemens Siremobile ISO-C c-arm, a GE OEC 9800 c-arm, Drager Evita XL ventilators, a Zeiss OPMI-CS surgical microscope, Stryker 1188 HD endoscopic camera towers, a Leica Cryocut 1800 cryostat, Medtronic LP 20 defibrillators, Drager Apollo anesthesia machines, OSI Jackson OR table, and various instruments and disposables. In addition to the medical assets there will be kitchen equipment, industrial washers and dryers, floor scrubbers, office furniture and more. The online catalog with photos and descriptions of all items is available on Centurion Service Group's website http://www.centurionservice.com.
"This auction differs from our monthly medical auctions in Chicago and Las Vegas because it gives medical equipment buyers the opportunity to purchase directly out of the hospital," said Erik Tivin, CEO, Centurion Service Group, LLC.
About Centurion Service Group, LLC
Centurion Service Group is the largest medical equipment auction house in the world, with locations in Chicago, IL, Las Vegas, NV, and Sunrise, FL. Every month over 5,000 lots of unique and diverse medical equipment are sold in their on-site and simulcast auctions making them a one-stop shop for all medical equipment buyers. Centurion Service Group works with hospitals, health systems, surgery centers, radiology centers, and other medical facilities to sell their surplus medical equipment and other assets.