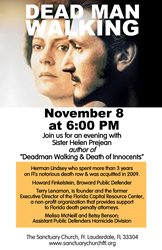 Murder, whether it's committed in a back alley or in Florida's execution chamber, should be equally offensive to people's moral sensibilities.
FORT LAUDERDALE, FL (PRWEB) October 28, 2014
Is the death penalty immoral? Is there a legitimate, rational justification for maintaining the death penalty in a modern, civilized society? These are just a few of the questions that will be addressed Saturday, November 8th at 6:00 pm when top national and local anti-death penalty activists convene at The Sanctuary Church in Fort Lauderdale (located at 1400 N. Federal Hwy) to demand an end to Florida's capital punishment law. The event, called "Thou Shall Not Kill," is expected to bring in over 700 participants who will also be signing a petition to repeal Florida's death penalty law.
Headlining the November 8th event is Sister Helen Prejean, a leading American advocate for the abolition of the death penalty. Best known as the author of "Dead Man Walking," which was turned into an award-winning film starring Susan Sarandon and Sean Penn, Prejean has served as a spiritual counselor to death row inmates for over 30 years.
"As a Christian church, we think it's time to ask ourselves, our community and our government, is there ever a moral justification for murdering another human being?" said Dwayne Black, pastor of The Sanctuary Church and organizer of the November 8th event. "The purpose of this event is to refocus the public's attention on a fundamentally important issue in our society. There is no asterisk after 'Thou shall not kill.' Murder, whether it's committed in a back alley or in Florida's execution chamber, should be equally offensive to people's moral sensibilities. There is no moral, legal or practical justification for putting another human being to death, aside from the political points it may gain certain elected officials who claim to be 'tough on crime,' despite the fact that executions have no meaningful deterrent effect."
In addition to Sister Prejean, the November 8th anti-death penalty event will include a number of other prominent officials and activists:
-- Broward Public Defender Howard Finkelstein
-- Death row survivor Herman Lindsey, who spent three years on Florida's death row before being acquitted in 2009
-- Ron McAndrew, former warden, Florida State Prison and writer
-- Melisa McNeill and Betsy Benson, Assistant Public Defenders, Homicide Division
-- Terry Lenamon, founder and former executive director of the Florida Capital Resource Center, a non-profit organization that provides support to Florida's death penalty attorneys
-- Other prominent organizations also participating include The Innocence Project, Floridians for Alternatives to the Death Penalty, and Conservatives Concerned About the Death Penalty
Founded in 1961, The Sanctuary Church of Fort Lauderdale is an active member in a number of social causes, including prison ministry, substance abuse, racial justice, homelessness and more. The Sanctuary recently served as the funeral site for Fort Lauderdale Fire Lt. Kevin Johns, who was killed September 30th while changing a flat tire on I-95.
For more information about the November 8th "Thou Shall Not Kill" event, please visit http://www.sanctuarychurchftl.org or contact Pastor Dwayne Black at 954-564-7600, dwayne(at)sanctuarychurchftl(dot)org.