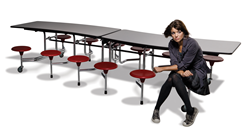 This component enables users to reset the torque level to the original specifications, allowing schools to save money
BOWLING GREEN, Ohio (PRWEB) October 28, 2014
BioFit Engineered Products, a leading designer and manufacturer of ergonomic seating and mobile folding tables, will showcase flagship products from its education market furniture line this week at EDspaces 2014 in Tampa, Florida. Highlighting the BioFit exhibit will be the Afton II cafeteria table, featuring the company's patent-pending "adjustable torsion cap" – an innovation created to extend the useful life of tables and help schools save money.
The Afton II table carries the distinctive S-shape of BioFit's original Afton series, providing imaginative floor plan configuration options for school designers and specifiers seeking alternatives to traditional, geometrically shaped tables. Developed for cafeterias, food courts and break rooms, the unique ebb and flow design promotes user interaction and makes a bold aesthetic statement, complementing today's trendiest school interiors while making efficient use of space.
A significant enhancement of the Afton II model compared to the original version is the addition of BioFit's proprietary adjustable torsion cap. This component enables users to reset the torque level of the table's lift assist device to the manufacturer's original specifications, subsequently allowing schools to save money by prolonging the useful life of the table. The adjustable torsion capability is engineered to facilitate quick and seamless folding and unfolding through the useful life of the table.
The Afton II model can easily be deployed, refolded and moved by one person. Like all BioFit tables, it is LEED® compliant for use in commercial interiors, GREENGUARD™ Gold certified and UL-listed.
Other BioFit products to be displayed and demonstrated at EDspaces include the multifunctional AdapTable™ convertible bench table and recently launched models from the bimos by BioFit™ collection. The collection is a collaborative initiative between BioFit and renowned German seating manufacturer Interstuhl.
EDspaces is an annual international tradeshow and conference for professionals who plan, design, build, equip and manage learning environments and educational campuses. This year's show runs from October 28 – 31 at the Tampa Convention Center.
Located in Bowling Green, Ohio, BioFit Engineered Products is a leading manufacturer of LEED-compliant, ergonomic chairs and stools, GREENGUARD-certified mobile tables, carts and accessories for education, healthcare, laboratory, industrial, technology and office environments. To experience BioFit furnishings for the education market, featuring the Afton II table, visit BioFit booth 642 at EDspaces. For more information on BioFit, visit http://www.biofit.com or call 800.597.0246.