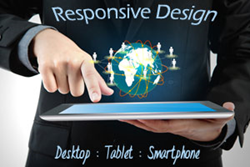 From the start, your attention to detail and professionalism came thru and in return, my clients are always impressed with what my company can offer them.
Markham Ontario (PRWEB) October 28, 2014
There are no tricks to improving a website's home page. In Front Media follows good design and layout principles with their Markham website design service ensuring the client's website utilizes good content writing, effective layout along with strategic visual elements placed in logical areas on the home page. In fact there are actually dozens of pointers that could impact the effectiveness of a good home page.
Len Doren, of In Front Media Website Design in Markham, offers this, "You have between 3-5 seconds to get the attention of a website visitor. After that, the next 5-10 seconds are also critical towards engaging and helping that visitor to make contact with your company. For that reason, a good home page should be mapped out long before the design actually takes place for maximum effect."
Len goes on to add, "If a business was to ask for 5 good pointers to follow that would have the most impact in improving the effectiveness of the company home page, I'd suggest that the following will definitely help."
Text Above the "Fold"

Important information must be visible in the browser window when the page first loads.
Too many graphics and too little text can have a negative impact on site visitors.
Limit the amount of scrolling by placing important text at the top of a page.
On-Page Titles

Make the page titles easy to find and easy to read.
Ensure the text font will stand-out in contrast to any page background colours.
E.g., don't use a dark blue font on a light blue background.
Phone Number and Hours of Work

Try to install the business phone number and hours of work so it can be easily found.
Make certain it's easily visible on each page, both at the top (banner) and in the footer.
At least ensure there are several methods of finding the contact page.
Navigation

Make certain the main site navigation is easy to find, and easy to read.
Placing navigation in an unfamiliar area or in small fonts can have a negative impact.
For larger websites install "drop down" menus for links to internal pages when necessary.
Call to action

Ensure there is an easy-to-find and clear message how and why visitors should make contact.
Create some "urgency" for visitors to make contact with the company.
Consider using a "time-limited" availability or "discount sale" message to increase conversions.
Including the above tips into any web page will help improve the effectiveness of conveying the business message and increase the likelihood of visitors making contact with business owners.
IFM Web Services offers Responsive Web Design, website analysis, SEO Press releases, Search Optimization and Facebook pages for businesses. Located in the Toronto area (GTA), IFM has helped business achieve an effective online presence and has helped clients as far away as Bermuda and Mexico. For more on Social Media, SEO or Web Design for businesses, visit IFM at http://www.ifm.ca.