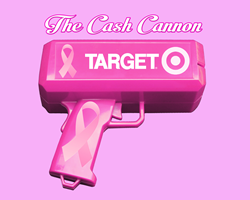 Party With A Purpose!
Atlanta, Georgia (PRWEB) October 27, 2014
Kwasmo Enterpries is excited to announce the official launch of their crowdfunding campaign for their innovative party and entertainment product, The Cash Cannon. The campaign will be live on IndieGoGo beginning on October 27th, 2014. After a few short months of marketing and promotion the initial shipment of The Cash Cannon sold out quickly, and Kwasmo Enterprises hopes to use their crowdfunding campaign to take pre-orders and demonstrate to consumers why their product is such a hit in a variety of situations.
The Cash Cannon is a versatile novelty product that dispenses flat paper items, including US dollar bills, confetti and marketing items with a smooth and entertaining method. Tap the trigger to dispense just a few items at a time, or hold the trigger to dispense the entire contents of The Cash Cannon. A perfect gift for friends, husbands and even kids, The Cash Cannon is a must own product for business owners looking to distribute promotional items and anyone that wants to celebrate with a fun twist!
Not only will the newest iteration of The Cash Cannon have upgraded appearance and performance modifications - the campaign will also be used as an avenue to donate to a very important charity that holds special place in the heart of Kwasmo Enterprises, Breast Cancer Awareness.
Please take a moment to check out The Cash Cannon IndieGoGo campaign for the Cash Cannon 2.0. Keep positing videos and images of different fun ways to use The Cash Cannon on social media using #cashcannon.