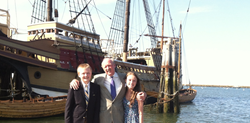 My candidacy has always been about representing the person in the middle. We've had enough lip service. We need more community service.
Plymouth, MA (PRWEB) October 27, 2014
Since winning the Democratic primary on September 9th, Stephen Michael Palmer's campaign for State Representative for the First Plymouth District has gained substantial momentum in recent weeks, leading up to the general election on November 4th.
As an elected town member in Plymouth, Stephen Michael Palmer knows what it means to serve the community each and every day. His mission to bring Government back to its rightful owners – the people - is resonating with voters throughout Plymouth.
Stephen's passion for public service is well understood by the people of Plymouth. He's the public servant that has painted over graffiti on town property; repaired little league field stands; rehabbed the Babe Ruth baseball field in the ponds of Plymouth; planted hundreds of flowers around town school entrances; raked leaves for the elderly; cut the grass and mended wooden fences at the Eel River Preserve on Long Pond Road – and now he seeks to mend the fences between government and the people that government represents.
"My candidacy has always been about representing the person in the middle," states Palmer. "Anyone in Plymouth who does not think they have a say anymore should vote for me on November 4th. I'll go to the State House as a reformer. I'll address the issues that are important to the people of Plymouth. And most importantly, I'll always place the people's interests above the preferences of lawyers and lobbyists. We have had enough lip service. We need more community service."
One of Palmer's top goals is to make Plymouth a must-see, year round destination. Promoting tourism in Plymouth will not only help local businesses, but it will also re-establish Plymouth's prominence throughout New England, and the country. "Given Plymouth's place in our nation's history, I want to inspire our residents to get involved in making our town a better place to live and work," adds Palmer.
To accomplish this goal, Stephen will work tirelessly to bring about a number of transportation & infrastructure improvements, such as restoring rail service directly to Plymouth seven days a week. He believes that ferries to Cape Cod and the islands should also stop in Plymouth. And Stephen believes that Plymouth's 400th anniversary celebration (set for 2020), provides a perfect opportunity to promote Plymouth on a state-wide and national level - and he will work to ensure state and civic involvement in the event's promotion.
In the remaining days leading up to the election, the doors to Stephen Michael Palmer's campaign office, located at 299 Court Street are always open. Voters are encouraged to stop by to ask questions, and to share their opinions. Voters can contact Stephen Michael Palmer directly at (774) 283-4296, or they may contact Todd Keefe at 617-262-1968 or tkeefe(at)crosswindpr(dot)com. Additional information on Stephen's campaign is available at stephenmichaelpalmer.com.