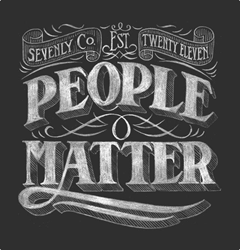 Raising over $4,000,000 in just a little over three years is an incredible milestone for Sevenly, But what is even more incredible is the fact that this is the result of over half a million of individual $7 donations.
Fullerton, CA (PRWEB) October 27, 2014
Sevenly announces today that it has officially raised over $4,000,000 for charities across the globe through its signature 7-day campaigns, which donate $7 per item sold to a designated charity. Since Sevenly was founded in June 2011, the company has partnered with over 180 charities, inviting customers to purchase custom illustrated cause art printed on a collection of apparel and accessory products that give back, following its mission to lead a generation toward a lifestyle of generosity.
Now widely recognized as one of the nation's leading social good companies, and considered the founder of the "cause art" movement, Sevenly has raised funds for many national and international non-profits including established charities like Autism Speaks, the American Foundation for Suicide Prevention and the St. Baldrick's Foundation as well as growing organizations like Mocha Club, Now I Lay Me Down To Sleep, and Stand For The Silent.
"Raising over $4,000,000 in just a little over three years is an incredible milestone for Sevenly," said Doris Neufeld, Social Media Manager. "But what is even more incredible is the fact that this is the result of over half a million individual $7 donations. The support and feedback I witness daily on social media from our supporters and charities is beyond rewarding, and we can't wait to celebrate this significant benchmark together with those who helped make it happen."
Showcasing even more notable growth by the company, just two weeks ago Sevenly announced their "new look of giving" by launching a complete re-design of their website and providing a new and enhanced experience for their customers. Sevenly gathered the feedback from its loyal supporters and the business enacted faster shipping times, real time customer support, and other enhancements that elevate Sevenly's e-commerce experience to the next level. The most exciting announcement from Sevenly is that they now offer extended availability of selected cause apparel items beyond the 7-day featured campaigns, giving customers the opportunity to support the causes they love everyday all while enabling the charity partners to receive more donations and therefore impact more lives. Sevenly is quickly becoming a lifestyle brand and the launch of their new marketing campaign "Living Life 24/Sevenly," exemplifies this call to action.
"We officially made the exciting decision to take away the exclusivity of the 7-day model and move toward a 'Featured Campaign of the Week,'" explained Stephanie Czupryk, Director of Marketing. "What this means for our customer is that now if they see their friends in any of our shirts, they can jump on our site, buy it instantly, and it will donate to the designated cause or charity for that item. Our desire is that this brings Sevenly to the foreground of peoples mind's when it is time for birthdays, holidays, family reunions, charity walks, fundraising events, etc...Our hope is that we change the reason behind why people shop where they shop and for what purpose they make a buying decision. We believe that doing good and changing the world with social conscious buying power is a completely achievable future for us all."
"Sevenly is becoming an iconic brand amid social good companies," said Sevenly co-founder and CEO Jim Van Eerden. "We're grateful to hold a unique trust from our charity partners and from our customers alike -- and we believe our best years in creativity and impact are yet ahead of us."
To continue in its mission of inspiring people for good, Sevenly is adding to its group of dedicated employees and announced recently that the company is hiring several positions. The company is expanding and it is preparing for the launch of brand new and innovative special projects that will excite Sevenly's loyal customer base in the near future.
Monday, October 27th, at 10am PST, launches the first campaign after the $4,000,000 milestone, which features Colorado-based non-profit, "First Descents." First Descents offers young adult cancer fighters and survivors a free outdoor experience designed to empower them to climb, paddle and surf beyond their diagnosis, defy their cancer, reclaim their lives and connect with others doing the same. Sevenly has created custom cause art to be sold on t-shirts, tank tops, long sleeves and hoodies, and for every item sold $7 will be donated to support "First Descents," continuing Sevenly's efforts to redefine the way that people can "wear and share" their favorite causes.
About Sevenly
Sevenly's campaign for world change was launched in June 2011 to raise awareness and funding for the world's greatest causes. Each week, Sevenly launches new campaigns introducing featured charities and promotes cause art inspired by the specific charity, which is imprinted on a collection of curated products, with $7 dollars from each item sold being donated to the designated charity. The company is increasing awareness, funding and following for charities that are changing peoples' lives every day across the globe. In just over three years, Sevenly has raised over $4 million and impacted more than 1.3 million lives. To learn more about Sevenly, visit http://www.sevenly.org.