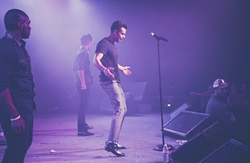 It's been such a great experience touring the west coast, and meeting so many wonderful people.
New York, NY (PRWEB) October 29, 2014
Zach Matari, the "New" Jersey Boy is a Pop/R&B sensation. He is a singer, songwriter and musician with a stage show you won't want to miss. Last month, Zach toured the west cost with fellow musicians Jacob Whitesides, Dylan Holland and Round2Crew during the "Jacob On The Westside Tour." Next month, they continue on the east coast with 12 scheduled dates for the "Out Late Tour" beginning with their first date on November 7 in Springfield, VA and ending on November 23 in New Haven, CT. Some of the stops along the way include, Albany, NY; Allentown, PA; Gramercy in NYC; Northampton, MA; Lancaster, PA; Howell, NJ; Amityville, NY; Poughkeepsi, NY; Philadelphia and Boston. Joining them on this tour is American Idol's 3rd runner up, Alex Preston.
Onstage, Zach Matari, along with his dancers of Beat Club Crew, moves with the sort of confidence that comes only from his knowledge of music history. His performance boasts a sweltry swagger and energizing fun for audiences of all ages. Matari, clearly a natural born entertainer, vivaciously dances and jumps around the stage, capturing the hearts of his fans, while still managing to sing every note effortlessly.
Matari's stage show is reminiscent of a young Elvis with classic suits and wing tipped shoes, spiffed up and seemingly ready to make an appearance on an old episode of The Ed Sullivan Show. Matari opens his set by paying homage to several artists who have clearly influenced his style of music with a mash up of songs from the 50's to present day and he calls it "The History of Turnt Up."
Matari's full tour schedule can been found by clicking this link: http://www.bandsintown.com/zachmatari
http://www.twitter.com/zachmatari
http://www.facebook.com/zachmatari
http://www.youtube.com/zachmatari