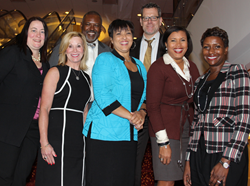 Mike Gorshe of Accenture received the William J. Grize Award for outstanding commitment to NEW's mission. 'He suits up and shows up.'
ATLANTA, GA (PRWEB) October 28, 2014
More than 1,100 retail and consumer goods leaders explored the theme "Innovation You" at the Network of Executive Women's NEW Leadership Summit 2014, Oct. 22-24 at the Hyatt Regency in Atlanta. Attendees at the women's leadership event listened to two keynotes, attended workshops and learning sessions, heard roundtable discussions by c-suite leaders and male executives, and honored industry leaders and regional volunteers.
NEW members also elected seven industry leaders to its Board of Directors during its annual Members Meeting, Oct. 23. Ken Charles, vice president of global inclusion and staffing at General Mills Inc., was elected to the Network's Board in the newly created position of NEW chair, diversity and inclusion. Added to the Board as at-large members: Dorria L. Ball, vice president of human resources, U.S. sales at Mondelēz International; Suzan Kereere, senior vice president and general manager, National Client Group at American Express; Dawn Kirk, senior vice president of sales and operations, East region for Coca-Cola Refreshments at The Coca-Cola Company; Karen Mooney, vice president, global total rewards for The Hershey Company; Ginnie Roeglin, senior vice president, e-commerce, publishing and Costco travel at Costco Inc.; and Greg Warren, vice president, global diversity and inclusion for Wal-Mart Stores Inc.
NEW Board Chair Betsy Hosick, general manager procurement, DM&S for Chevron Corporation; Treasurer Erby Foster, director, diversity and inclusion at The Clorox Company; Secretary Regenia Stein, principal at Ingenuity Consulting; Sponsorship Chair Margarita Rossi, senior director, strategic customer strategy and customer innovation, DePuy Synthes, for Johnson & Johnson; and Marketing & Communications Chair Lisa Walsh, senior vice president, PepsiCo sales for PepsiCo Inc., were re-elected to their officer positions. Karen Stuckey, senior vice president, softlines and general merchandise sourcing for Wal-Mart Stores Inc., was elected to serve as Board vice chair. She previously served on the NEW Board as an at-large director.
At-large directors elected to continue their Board service are Trish Adams, executive vice president, apparel and home for Target Corporation; Dian Emerson, vice president, human resources, business services and diversity for Safeway Inc.; Vicki Felker, vice president of pet specialty, customer development group for Nestlé Purina PetCare; Amy Hahn, senior vice president, marketing at Ahold USA; Meg Ham, president of Bottom Dollar Food; and Monica Turner, vice president, North America at Procter & Gamble.
Celebrating Excellence Awards
Mike Gorshe, managing director, CG&S and food retail at Accenture, received the Network's William J. Grize Hall of Fame Award for Outstanding Leadership in support of the Network mission at NEW's Celebrating Excellence Awards Gala, Oct. 23. NEW Secretary Regenia Stein of Ingenuity Consulting, last year's Grize Award recipient, presented the award, along with NEW President and CEO Joan Toth. The award is named after the late Ahold USA CEO, an early advocate of industry diversity. It honors industry leaders who have demonstrated "an enduring commitment to the advancement of women and to creating a diverse and inclusive workplace."
"Mike has this extraordinary talent with people," Stein said. "He is at ease in any situation — even when he's the only man in a room filled with 30 strong-willed women. He suits up and shows up. He doesn't always talk, but when he does people always listen."
The Network also honored its regional volunteers, including Regional Leader of the Year Nicole Rasmussen of Deloitte, and named NEW Northwest Arkansas its Region of the Year.
Members of the NEW Northwest Arkansas leadership team accepted the 2014 Region of the Year Award. "This region excels on every level -- including community and college outreach, mentoring, membership and sponsorship," Thompson said. "The officers and 50 volunteers of this regional group have a passion for change and innovation. They have built a high profile for NEW in one of our industry's most important business centers."