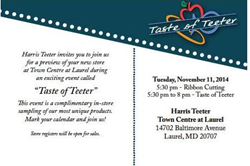 Matthews, N.C. (PRWEB) October 28, 2014
Harris Teeter is proud to welcome shoppers to its Towne Centre at Laurel store on Tuesday, Nov. 11, 2014. The company is celebrating its grand opening with a ribbon cutting ceremony at 5:30 p.m. followed by a sampling event featuring Harris Teeter brand products.
Harris Teeter was co-founded in 1960 by North Carolina grocers W.T. Harris and Willis Teeter. There were 15 stores in operation; Harris Teeter currently operates over 230 stores. Town Centre at Laurel will be the Company's 12th in Maryland.
In each of its stores, including its newest in Maryland, Harris Teeter strives to offer customers an excellent shopping experience on every visit. An excellent shopping experience starts in the store with customer service and high-quality perishables along with variety and selection. The Company also strives to be involved in the local community and will continue to support local schools and youth sports organizations, among other non-profit organizations.
Your Towne Centre at Laurel Harris Teeter will be open 6 a.m. - midnight, and the Harris Teeter pharmacy will be open seven days per week, as well.
Store Address: Towne Centre at Laurel; 14702 Baltimore Avenue, Laurel, M.D., 20707
Grand Opening Date: Tuesday, Nov. 11, 2014
Grand Opening Time: 5:30 p.m., ribbon cutting followed by sampling event
Store Hours: 6 a.m. – midnight
Pharmacy Hours: 9 a.m.–9 p.m. M-F; 9 a.m.–7 p.m., Sat.; noon–6 p.m. Sun
Square Footage: 48,000
Check-Out Lanes: Eight checkouts, four express checkouts
Features and Departments:
Full-service Butchers Market with Rancher Beef, HT Reserve Angus Beef and HT Naturals Natural Beef • Full-service Fishermans Market • Shrimp Party Trays • Farmers Market Produce • Full-Service Floral and Custom Floral Arrangements • Produce Party Trays • Gift Basket Program • Full-service Fresh Foods Market Deli/Bakery • Sushi • Self-Serve Olives • Salad Bar • International Cheeses • Custom Cakes and Ice Cream Cakes • Hot Asian Bar • Sub Shop and Made-to-Order Sandwich Program • Artisan Breads • Italian Meat Selection • Fresh Made Salads • Fresh Made Pizza • Party Trays • Boar's Head Meats & Cheeses • Slicing Meats & Cheeses • Starbucks • Organic, Natural and Specialty Foods • Expanded Hispanic and Asian Foods • Specialty Foods • Pharmacy • Free Blood Pressure Testing • Private, Professional Consultations • Cosmetics • Double Coupons • Club 60 Discount • Carryout Service • USCAN • Western Union • Coinstar • Express Lane Online Shopping • Red Box DVD Rental Kiosk • Sit-down eating area
http://www.harristeeter.com
Harris Teeter, with headquarters in Matthews, N.C., is a wholly-owned subsidiary of The Kroger Co. (NYSE: KR). Harris Teeter reported 2013 sales of $4.71 billion. The regional grocery chain employs approximately 26,000 associates and operates stores in North Carolina, South Carolina, Virginia, Georgia, Tennessee, Maryland, Delaware, Florida and the District of Columbia.