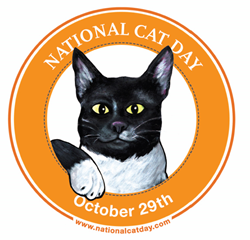 Cats are so loving and intuitive when it comes to understanding our emotions. They deserve so much more than what they get in this world.
Los Angeles, CA (PRWEB) October 28, 2014
The 9th Annual National Cat Day, founded in 2005 by Pet Lifestyle Expert, Animal Behaviorist and Author, Colleen Paige, is soon to be celebrated by cat lovers, shelters and rescues. This year again, Annual National Cat Day will take the internet by storm. With celebrations all over the globe last year and trending worldwide in the number one spot on Twitter, National Cat Day has become "International" Cat Day, focusing on cats and their whimsical purrsonalities, unconditional love and the need for adoption far and wide. It is estimated that since 2005, this special day has saved over a million lives through its celebratory events by businesses and animal rescues and the support of wonderful sponsors, such as this year's Presenting Sponsor, BLUE Naturally Fresh Cat Litter by Blue Buffalo.
"Blue Buffalo and BLUE Naturally Fresh are so thrilled to be a part of National Cat Day 2014", said Sean Sterner, Blue Buffalo Marketing Manager. "Colleen and her team do an extraordinary job of generating awareness in support of shelters and the cats that are looking for a permanent home. Cats provide such unconditional love and loyalty and we feel this event celebrates that companionship so well."
Founder Colleen Paige said, "The team behind National Cat Day is equally thrilled to be partnered with such a reputable, philanthropic company and we can hardly wait to announce the winners of the "Happy Moment's" Photo Contest hosted by BLUE Naturally Fresh and National Cat Day, with the grand prize winner receiving a year of Naturally Fresh Cat Litter".
BLUE Naturally Fresh is made from walnut shells and offers pet parents incredible odor control and long-lasting absorbency. BLUE Naturally Fresh is virtually dust-free, is low tracking and is available in a variety of formulas to suit any household needs. The National Cat Day team believes that some of the difficult aspects of managing a litter box have played a significant role in many cats being abandoned. That makes Blue Naturally Fresh a perfect partner, because by effectively controlling odors and lasting longer, Blue Naturally Fresh make management of the litter box easier.
Millions of cats are waiting for new homes. Founder Colleen Paige encourages every cat lover to adopt on October 29th, or at the very least donate to their local shelter. "Cats are so loving and so intuitive when it comes to understanding our emotions. They deserve so much more than what they get in this world. It breaks my heart on a daily basis knowing how many millions of wonderful cats lose their lives every day in shelters across the globe. The unfortunate reality is that we can't save them all, but we can all do our part to help save as many as we can. That starts with visiting your local rescue or shelter, as you are sure to find your new best friend if you do", says Paige.
For more information about National Cat Day, please visit NationalCatDay.com
Contact:
Kathleen Kelly
pr(at)colleenpaige(dot)com