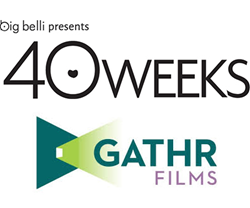 NEW YORK, NY (PRWEB) October 28, 2014
Big Belli LLC was conceived, by husband and wife team Christopher Henze and Dominique Debroux, to produce a movie and create a web-based extension of filmed information to empower, educate and create a sense of community for expectant moms.
The seed was planted when Debroux became pregnant. She was an older mom-to-be with a busy career, her family was far-flung and most of her friend's childbearing days were long over. Feeling somewhat isolated, she sought a community to connect with.
And so, 40 Weeks was born. Among the team assembled to film, score and edit were Executive producer Kurt Engfehr ("Bowling for Columbine", "Fahrenheit 9/11", "Fat, Sick, and Nearly Dead"), Casting Director Lisa Singer ("The Bachelorette", "Queer Eye"), and Editor April Merl ("2012: A Time for change," "The Yes Men Fix the World").
Now that 40 Weeks is ready to be seen, Big Belli is partnering with Gathr to bring screenings to theaters across the country. Gathr's Theatrical On Demand® is a new and exciting online crowd-sourcing approach that is rapidly changing film distribution. Gathr is growing the largest independent film community of moviegoers in the world.
Gathr makes it possible for anyone to create exciting events in their own towns. Not just to screen films, but to create experiences - speakers, fundraisers, Q&A sessions – around screenings to encourage additional community dialogue.
It's easy to become a 40 Weeks Champion and hold a screening in your area. Just go to https://www.40weeksthemovie.com/about-movie/find-screening/and sign up. Big Belli and Gathr will support you in reaching out to your friends, family and community to create a successful event.
40 Weeks invites audiences to sign up for screening details and opportunities to meet the families featured in the film. To learn more and watch the videos, please visit http://www.40weeksthemovie.com
40 Weeks – coming soon to a theater near you!