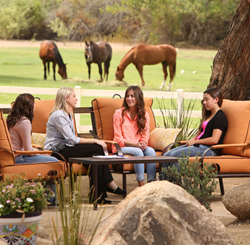 Wickenburg, Arizona (PRWEB) October 28, 2014
Remuda Ranch at The Meadows, a comprehensive treatment center specializing in eating and co-occurring disorders for women and girls, is pleased to announce Jessica Setnick, MS, RD, CEDRD has joined their multi-disciplinary team of treatment professionals as a Senior Fellow.
Professionals around the world use the treatment techniques Setnick teaches in her Eating Disorders Boot Camp Training Workshop and Eating Disorders Clinical Pocket Guide. She is one of fewer than 100 dietitians worldwide to obtain board certification as an Eating Disorder Specialist.
As an internationally known eating disorders specialist, Setnick is recognized for her straightforward approach to educating health professionals and the public about eating disorders and the connections between mental health and nutrition.
Setnick says, "I left private practice to fulfill my mission of educating professionals so that more individuals with eating disorders get better and more effective treatment. I am thrilled that Remuda Ranch at The Meadows shares this goal and look forward to our collaboration."
Senior Fellows at The Meadows programs are thought-leaders in their disciplines and work directly with the therapeutic staff and patients. In her role as a Senior Fellow at Remuda Ranch at The Meadows, Setnick will be hands-on at the facility training staff and running groups.
"Nutrition is the cornerstone of the treatment provided at Remuda Ranch at The Meadows. Having an expert in dietetics to serve as a Senior Fellow is essential for our health professionals," said Chris Diamond, Executive Director of Remuda Ranch at The Meadows. "The staff and women treated at Remuda will benefit greatly from Jessica's support, experience and training. I could not be happier to have Jessica Setnick join the Remuda team."
Setnick is the co-founder of the International Federation of Eating Disorders, the first and only organization dedicated to improving the treatment and care of individuals with eating disorders by improving their access to eating disorder dietitians. As an advocate for research, education and awareness, Setnick has campaigned tirelessly for the improvement of eating disorder treatment and care on behalf of patients
.
As a highly sought after speaker, her popular presentations to health professionals, teachers, coaches and parents include Making Food Your Friend Again and Raising Healthy Kids in a Fast Food World. She also co-authored a weekly column, Making Fitness Fit. She has been widely interviewed for radio, television and the Internet and is well known for her unique ability to blend compassion and understanding with straightforward advice.
Remuda Ranch at The Meadows is an industry leader in treating eating and co-occurring disorders for women and girls through its inpatient, residential and partial-care programs. To learn more about Remuda Ranch at The Meadows' work, contact an intake coordinator at 866-390-5100 or visit http://www.remudaranch.com.
Since 1990, Remuda Ranch at The Meadows has been a leading eating and co-occurring treatment center. In that time, over 10,000 women and girls have trusted their care to Remuda Ranch at The Meadows. Through Remuda Ranch at The Meadows' treatment approach and clinical excellence individualized treatment is offered by a multidiscipline team of psychiatrists, primary care providers, registered dietitians, therapists, psychologists and registered nurses that provided assistance and support 24-hours a day. Along with treating eating disorders, Remuda Ranch at The Meadows addresses co-occurring issues such as depression, anxiety, substance abuse and trauma. Remuda Ranch was acquired by The Meadows in 2012 and is accredited by The Joint Commission.
###