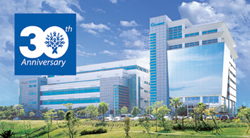 Foothill Ranch, CA (PRWEB) October 30, 2014
Chroma ATE Inc. (global brand name "Chroma"), a world leading manufacturer of precision Test and Measurement Instrumentation, Automated Test Systems, Manufacturing Execution Systems and Turnkey Test and Automation Solutions, is celebrating 30 years of successfully exceeding customer requirements by providing solutions to an increasingly diverse and technologically challenging marketplace.
Chroma ATE Inc. was established in 1984 by Leo Huang and Ming-Hsiong Chang with their first product, a programmable Video Pattern Generator. The company then expanded its product lines into the Optoelectronics, Display, IT, Semiconductor and Solar industries. Now with facilities located throughout the world, Chroma has provided solutions in LED, photovoltaic, battery, electric vehicle, semiconductor, flat panel display, power conversion, electrical safety, and thermoelectric testing, as well as optical inspection and manufacturing execution systems.
Through significant investments in its own research and development teams, Chroma continues to expand its product lines within its 16 product divisions. R&D employees comprise almost 40% of the total workforce, larger than any other segment within the company. Combined with the large number of R&D based employees, Chroma continues to trend its R&D expenditures at or above 14% of revenue.
Last year, Chroma was awarded first place in the 2013 Taiwan Mittlestand Award competition in recognition of its unique, key expertise and remarkable global competitiveness. It was acknowledged as a benchmark to all enterprises by the Taiwanese Ministry of Economic Affairs. Chroma continues to strive for excellence in meeting the demand for the test and automation of emerging markets like solar power, electric vehicle technology, LED lighting, and other energy efficient, low environmental impact technologies.
From individual test instruments to complete turnkey test and automation systems, Chroma products provide companies the ability to improve product reliability and safety, and to reduce defects in the design and manufacturing process. For more information, contact Chroma's nearest worldwide office or log on to http://www.chromausa.com.
About Chroma Systems Solutions
Chroma Systems Solutions, Inc. is the North American business unit of Chroma ATE, the world leader in power conversion testing instruments and automated test systems. With offices and manufacturing facilities located around the globe, Chroma is committed to provide excellence in product, service, and innovation. Chroma Systems Solutions, Inc. is located in Foothill Ranch, CA. For more information please visit http://www.chromausa.com or call us at (949) 600-6400.