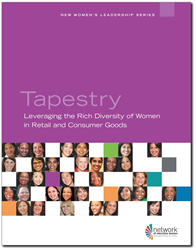 More than 56% of multicultural women agreed that multicultural women face more bias than white women, compared to 28 percent of white women.
CHICAGO, IL (PRWEB) October 28, 2014
Organizations in the retail and consumer goods are losing a competitive advantage by overlooking "the unique contributions and challenges of multicultural women," according to a new report released by the Network of Executive Women, the top women's leadership organization serving the industry.
"Tapestry: Leveraging the Rich Diversity of Women in Retail and Consumer Goods" reports that while "white women make slow but steady progress, multicultural women can find their careers stalling out."
The report--co-authored by Ancella Livers, senior faculty at The Center for Creative Leadership, and Trudy Bourgeois, CEO of The Center for Workforce Excellence--was based on interviews with industry leaders, third-party research and a survey of nearly 2,000 Network members and supporters of all backgrounds conducted earlier this year.
Livers said, "Multicultural women have different workplace experiences and career challenges related to their gender and their race and ethnicity — and perceive the workplace differently than white men and white women, according to Livers . "Multicultural women are much more likely to perceive the dual impact of gender and race/ethnicity on career advancement than white women, who are more likely to perceive only the impact of gender," Livers said.
More than 56 percent of multicultural women surveyed by NEW agreed that "multicultural women face more bias than white women," compared to 28 percent of white women.
"In many cases, multicultural women deal with additional cultural, community or religious demands that make work/life balance even tougher than it is for white women," Bourgeois said. "Multicultural women feel pressure to hide certain aspects of their life and are sometimes uncomfortable being authentic at work, said Bourgeois.
NEW President and CEO Joan Toth said, "To nurture an inclusive environment and realize the well-documented business benefits of diverse leadership, retail and consumer goods companies must recognize the differences in how women perceive the workplace and promote changes to policies and culture that will leverage the talents of multicultural women leaders.
"To compete effectively, companies must do a better job developing and advancing multicultural women leaders," Toth added. "Companies perform better when their senior leaders and board members role-model inclusion, support initiatives that develop diverse leadership and demand executive accountability for creating effective, multicultural, gender-diverse teams.
The report concludes with an "agenda for change" that includes a call for greater leadership, accountability, mentoring and sponsorship, pipeline expansion and career development to advance multicultural women in the industry.
ABOUT NEW
The Network of Executive Women is the largest women's leadership community serving the retail and consumer goods industry. it represents more than 8,500 members, 750 companies, 100 corporate partners and 20 regions in the United States and Canada. For more information about its events, learning, research and best practices visit newonline.org.