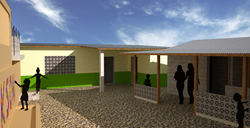 "Twenty-nine girls sleeping in one room is unacceptable! Be apart of the solution." - Katie MathenyHaiti Operations Director at Ncompass
Portland, Oregon (PRWEB) October 28, 2014
In Titanyen, Haiti, there is a small orphanage called the Maranatha House. In it live 40 beautiful children who sing, dance and laugh with pure joy. Tucked away in a small village, the orphanage has one main building, a kitchen and an eating area that doubles as a playroom, classroom, stage and soccer field. The main building on the property is where the 40 children sleep. Twenty-nine girls sleep in one room and eleven boys sleep in another! Such tight quarters prove to be challenging for the independent growth of each child, especially for the older children who desire privacy and storage for personal items. Ncompass desires to provide more space for these children to develop into who they were created to be.
Over the past year, plans for a new boys' dorm have been drafted by a group of Portland based architects. The new dorm will have a bathroom with toilets and showers powered by a water-catchment system on the roof. It will also have two rooms inside, one for the older boys and one for the younger ones. Additionally, there will be a separate room for a male caregiver to stay. The new boys' dorm will be smaller than the main house, which will create space for the 29 girls to spread out into two larger rooms.
Ncompass has contracted with a Haitian-based American contractor. The total projected cost for the project is $57,000. This project will not only provide housing for children at the orphanage, but will provide employment for the Haitian building crew.
Ncompass is a Portland, Oregon based non-profit whose mission is not only to serve today's youth in Haiti, but to empower and develop them to become the generation that will shape their country's future for the better. The non-profit has been partnering with the Maranatha House Orphanage in Titanyen, Haiti since 2011. When Ncompass first became involved with the orphanage, their first mission was to find sponsors to make sure the kids were taken care of by loving staff members and nutritionally fed. Now that the basic needs of the children have been met by sponsors, they are focusing on bigger projects that will impact the children.
Ncompass and the Maranatha House Orphanage are very excited about this new building project. For more information, or to partner with this initiative, click here.