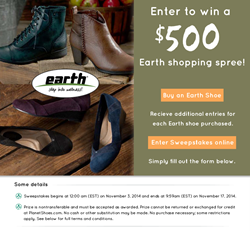 Waltham, MA (PRWEB) November 04, 2014
PlanetShoes and lifestyle retailer Earth are proud to announce the launch of their sweepstakes during the month of November. Contestants are simply asked to submit their email address into a Facebook tab application to be entered to win $500 worth of Earth shoes. Each purchase of an Earth shoe via PlanetShoes.com will result in an additional entry into the sweepstakes. This contest will run from November 3rd to November 17th.
The winner of this contest will receive a $500 gift card to Earth shoes, valid for his or her choice of the Earth fall collection.
To enter the contest, one should visit the PlanetShoes Facebook Contest Page at http://www.facebook.com/planetshoes.
About Earth Shoes
Brought to you by Earth Brands, Earth Shoes are the complement to Kalso Earth Shoe, the original wellness shoe. Infused with health and wellness technologies so inherent to the brand, Earth shoes are your stylish, all-day companion. Great for a day at the office, a casual after-work meet-up or a weekend on the town, fashionable, comfortable Earth shoes are your easy go-to shoes for fall. With Earth Brands' 40-year reputation in the comfort footwear realm, each pair of shoes is backed by a passion and commitment to wellness.
About PlanetShoes
PlanetShoes.com is a lifestyle retailer committed to carrying a large assortment of distinctive, hard-to-find shoes, boots, bags and accessories that blend style, comfort and value. Going beyond the traditional shopping experience to help visitors explore and discover brands that matter, PlanetShoes translates the experience of boutique shopping to the online realm. From vegan to eco, trends to health and wellness, Made in Europe to Made in the USA, PlanetShoes has wide selection of products from over 200 brands for each and every lifestyle. For more information, please visit http://www.planetshoes.com.