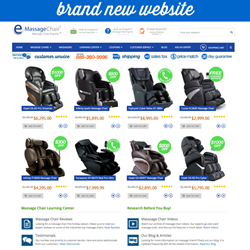 We wanted our store to adequately reflect our customer service philosophy, and we make it easier than ever to ask an expert for a massage chair recommendation.
Las Vegas, NV (PRWEB) November 24, 2014
Just in time for the fast approaching Black Friday and Cyber Monday holidays, emassagechair.com, the home of the massage chair experts, has unveiled a newly designed site focused on providing shoppers with an unparalleled user experience.
Based on customer feedback, the fresh mobile-friendly new look places every piece of information shopper's have requested--from reviews to comparisons, to massage chair coupons, and free expert advice--readily accessible and available at a glance.
Well-known in the industry for their Customer-First Philosophy, emassagechair.com has cultivated a reputation for treating the shoppers like family, before, during, and after their purchase. To date, thousands of shoppers have purchased from emassagechair, and a blend of both milestones and company philosophy can be found on their Why Buy from Us Page.
Their new site builds on their solid Customer-First Philosophy. Having been specifically designed to navigate shoppers through the sea of information available on massage chairs, the site arms shoppers with every piece of information they need to make the absolute best and most informed decision.
Shoppers gain instant access to detailed customer feedback through real and up-to-date testimonials, detailed product photos, videos of the chairs in-action, in-depth product descriptions and up front shipping and warranty policies. Best of all, from the customer's perspective, current promotions are featured prominently in relevant areas, including the site's home page. They can also find seemingly endless amounts of information through a Holiday Massage Chair Shopping Guide, massage chair reviews, and massage chair videos.
'You asked, we listened. We pride ourselves on going above and beyond in guiding our shoppers, both on the phone and now on our site," said Emery, Director of Customer Service. "We wanted our store to adequately reflect our customer service philosophy, that's why we've dedicated our Learning Center to bringing shoppers up to speed, enabling them to ask an expert for a recommendation."
Known as the shopper's advocate, emassagechair.com is dedicated to giving their shoppers a voice with the brands they love. Emassagechair has also hinted towards some new and exciting products that will be available for the holidays--a testament to their strong partnerships with the brands with whom they work. "We're constantly providing customer feedback to our brands and we're delighted when we see new products come out with the features people want," says Customer Service Director Emery.
Passing down new information as they receive it, emassagechair.com also regularly publishes a company blog on new product and health-related topics. Massage enthusiasts regard the blog as a go-to industry resource.
For questions or comments you can contact Emassagechair.com at 888.360.9996, or email support(at)emassagechair(dot)com.