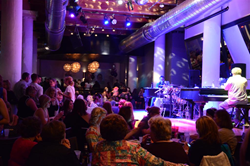 Maryland Heights, MO (PRWEB) November 03, 2014
The newest, most exciting entertainment destination has finally arrived in Westport and will be opening soon! Located in the heart of Westport Plaza, Jive & Wail brings a whole new level of entertainment to the Maryland Heights and St. Louis area. With local ownership and a commitment to the revitalization of St. Louis, the Jive & Wail is a homegrown entertainment venue for the people of St. Louis by the people of St. Louis.
Always Different. Always Fun.
Jive & Wail prides themselves on being able to provide the best talent from around the country each and every week, and the dueling-piano bar is a perfect destination for a night out on the town. They guarantee quality entertainment on every visit and urge customers to make recommendations. A smile and a story are a guarantee at Jive & Wail. Experience the thrill of live dueling pianos, grab some drinks and dance the night away. Why go bar-hopping when everything is all in one place? The people, the music, the high energy atmosphere all make the Jive & Wail the place to be in St. Louis. With a high-energy, audience-interactive show, a night at the Jive & Wail will be unforgettable!
The Jive & Wail is also perfect for group events, functions or celebrations. With customized packages to fit any need, just let the dedicated sales team customize the event to create a lasting experience that guests will be raving about for days on end. With food prepared in house by their incredible kitchen staff, the diverse menu will tantalize taste buds. Corporate events, private parties, bachelorette parties, they do it all - just give them a call.
For reservations or more information call today at 314-781-7000, or visit the website at jiveandwail.com.
For a list of upcoming events visit the event page here.