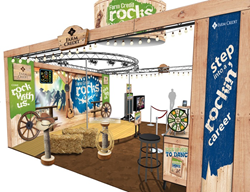 Louisville, Ky (PRWEB) October 29, 2014
Farm Credit, a national provider of financing to agriculture and rural America, returns to the National FFA Convention and Expo for the fourth straight year with an updated Farm Credit Rocks program. The annual celebration of the next generation of farmers, ranchers and advocates for rural America, starts today in Louisville, Ky. Those who aren't able to make it to Louisville can follow the conversation on Facebook, Twitter and Instagram using the hashtags #FarmCreditRocks and #goFFA. Here are a few event and activity highlights that are coming up the 2014 FFA Convention:

Updated Farm Credit Rocks Booth: All FFA Expo attendees are invited to stop by booth #1130 to kick up their heels, spin the prize wheel and learn more about career opportunities at Farm Credit. The 2014 booth will feature a line dancing competition and an interactive photo booth. Attendees who post their rockin' photos to Facebook, Twitter or Instagram with the hashtag #FarmCreditRocks will be entered to win the grand prize. [WHEN & WHERE: Oct. 29 - 31; KEC Expo Floor Booth #1130]
American Degree: More than 3,500 FFA members will receive an American Degree during the award ceremony. Recipients, representing less than half of one percent of all FFA members, have demonstrated the highest level of commitment to the organization and have made significant accomplishments in their Supervised Agricultural Experiences. #AmericanDegree [WHEN & WHERE: Nov. 1; 7:45 a.m.; KEC Freedom Hall]
Collegiate Career Fair: Collegiate FFA aims to create premier leaders, enable personal growth and ensure career success. Career Fair attendees will have the opportunity to learn about the wide variety of career and internship opportunities available at Farm Credit nationwide. Stop by the Collegiate Career Fair to learn more – Farm Credit (#CF232) and CoBank (#CF234). [WHEN & WHERE: Oct. 30 & 31; KEC Expo Floor]
We Are FFA: The interactive We Are FFA booth will provide FFA members an opportunity to let their voices be heard regarding inclusiveness within the organization. We Are FFA strives to foster and sustain an environment of inclusiveness that empowers everyone to achieve the highest potential without fear, prejudice or bias. #WeAreFFA [WHEN & WHERE: Oct. 29 – 31; KEC Expo Floor #1629]
Farm Credit associations and banks across the nation contribute to FFA chapters at a local and regional level, and Farm Credit's National Contributions Program is proud to support FFA national programs on behalf of the entire Farm Credit System. In addition to the annual convention, Farm Credit supports the New Century Farmer program, the Washington Leadership Conference and the National FFA Alumni Development Conference.
# # #
About FFA
National FFA, also known as Future Farmers of America, educates its 540,000 middle and high school students about the science, business and technology of agriculture. The 2014 Convention is being held Oct. 29 – Nov. 1 in Louisville, Ky. Farm Credit National Contributions is a sponsor of the organization, and many of Farm Credit's regional entities support local chapters with both financial donations and volunteer hours.
About Farm Credit
For nearly a century, Farm Credit has been a national provider of credit and related services to rural America through its cooperative network of customer-owned lending institutions. Farm Credit provides more than $200 billion in loans and leases to farmers, ranchers, rural homeowners, aquatic producers, timber harvesters, agribusinesses, and agricultural and rural utility cooperatives. For more information about the Farm Credit System, please visit farmcredit.com.