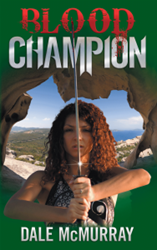 Author Dale McMurray draws on her rich Irish heritage to create a worthy female heroine who faces every encounter with heart and courage.
NECEDAH, Wis. –
(PRWEB) October 29, 2014 -- An overweight, green-eyed woman just over 5 feet tall who dyes her gray hair auburn is not a typical hero. As this new novel reveals, however, Slo'ane O'Neill of the Black Stair Mountain clan gave up her mortality for immortality when she was chosen her clan's blood champion, or Curadh, and she's got the scars to prove it. Now a threat has appeared – the Dark Lord has found a way out of his prison again – and Slo'ane must find the strength to combat this foe.
"Blood Champion" tells of a feud between two brothers who loved the same woman and the terrible consequences of their final battle. Trapped in a cave, one becomes the Dark Lord. Keeping the clan safe eventually falls to Slo'ane, who bears white scars on her spine from being branded with three Celtic words that mean strength, faith and light. The scars warn her when she comes near something or someone related to evil.
Now it's years later, and Slo'ane is running a tavern with her good friend Thomas. A chieftain tests her readiness, and during the conflict, a crack appears in the bonds that hold the Dark Lord. Slo'ane realizes that this time defeating the Dark Lord is not enough – she must defeat him once and for all. The adventure continues after that battle, becoming one that will change her life – and that of her clan – forever. Author Dale McMurray draws on her rich Irish heritage to create a worthy female heroine who faces every encounter with heart and courage.
Dale McMurray, born and raised in the Chicago area, graduated from Evanston Township High School and lived in Bolingbrook, Ill., and Woodstock, Ill. She moved to Wisconsin with her husband, Dave, who passed away two years ago. McMurray, who served as Dave's sole caregiver when he became ill, worked on security jobs for a few years. She dedicates the book to Dave, who always supported her writing.
----------
For additional information, please visit http://www.dmcmurraybooks.com
Blood Champion
Dale McMurray
Dog Ear Publishing
ISBN: 978-1-4575-2908-5 76 pages $8.95 US
Available at Ingram, Amazon.com, Barnes & Noble and fine bookstores everywhere.
About Dog Ear Publishing, LLC
Dog Ear Publishing offers completely customized self-publishing services for independent authors. We provide cost-effective, fast, and highly profitable services to publish and distribute independently published books. Our book publishing and distribution services reach worldwide. Dog Ear authors retain all rights and complete creative control throughout the entire self-publishing process. Self-publishing services are available globally at dogearpublishing.net and from our offices in Indianapolis.
Dog Ear Publishing – self-publishing that actually makes sense.