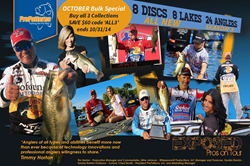 Yankton, South Dakota (PRWEB) October 30, 2014
Following the release of the Exposed Season 3 DVD collection, ProPatterns, Inc. readies for the 2015 online PPV release of its upcoming Exposed Season 4. The season will bring back several series favorites and offer many new faces to the lineup. The commercial-free Exposed series, which follows top Elite pros as they navigate and study competition waters during practice days leading up to tourneys on the Elite trail, is available free to ProPatterns members with "Elite" subscriptions and available for a nominal price to the general public exclusively at http://www.ProPatterns.com.
Shooting promotional material this month for the upcoming season are series host Sondra Rankin and newcomer Nicole Jacobs, who hails from Saint Paul, Minnesota. Jacobs debuted on the circuit this year, making the cut at the 2014 Bass Pro Shops Northern Open #1 at Douglas Lake last May. Amid a heavy field, Jacobs placed 14th overall. Rankin and Jacobs shot the teaser videos for Season 4 of Exposed on the picturesque waters of western Kentucky earlier this month.
Season 4 of Exposed takes fans across the competition waters of North America with a lineup of Elite pros, who bring viewers into their boats to offer the best insider information about the sport. Exposed for the first time in 2015 are: 2013 Bassmaster Classic Wild Card winner Chad Morgenthaler; 2013 Falcon Slam winner Keith Combs; 2012 Bass Pro Shops Central Open #2 winner Casey Scanlon; 2005 Western Open #2 winner Jared Lintner; veteran six-time Classic competitor Bill Lowen; Elite five-time top-ten finisher Kevin Hawk; and the 2014 Rookie of the Year Jacob Powroznik.
These top competitors are joined by this year's winner of the Exposed Eligible? film contest, Mark Lassagne, as well as Exposed series veterans Brandon Palaniuk, Brian Snowden, Billy McCaghren, Mike McClelland, and Tim Horton. To welcome these new additions to the Exposed lineup, ProPatterns is bringing a new look and feel to the http://www.ProPatterns.com website with several major design enhancements.
To speed delivery of content, ProPatterns has enhanced features to bring customers "click-on signup". This options will offer no-hassle fast-and-easy delivery of fresh discounts at the ProPatterns store. For those who need to catch up on past seasons of Exposed, the ProPatterns video vault will be organized and can be listed by select criteria and the "my library" feature. In addition, Exposed will soon go live with Exposed pro interviews. These interviews will be available to all ProPatterns Elite subscribers.
Of all the changes coming to ProPatterns, the journal section of ProPattern.com perhaps takes on the most radical new look and feel of all these site enhancements. Through this platform, members will be able to create a detailed personal profile, link to personal websites, upload videos and images, and interact with other angling enthusiasts, using features on the profile timeline, as well as the "Inspires me" button. All of these enhancements come on a platform dedicated solely for the purpose of promoting the sport of fishing. All members will be able to enter the journal section, but to view full member details and to fully interact with all other members, an upgrade to the ProPatterns Elite subscription package is required.
Always available on any PC, ProPatterns.com will soon also feature a go-anywhere platform, which will include a series of responsive functions tailored to meet the demands of most handheld devices.
More About ProPatterns, Inc. and Exposed:
ProPatterns, Inc. is a leader of angling education by sharing professional fishing tips, industry information and member services online. In addition, ProPatterns offers prize filled competitions, sharing of information among peers, and connections to industry professionals and media through means available nowhere else.
Information is gathered from various sources and disseminated with members in a variety of ways. The Exposed video series, for example, gains all of its integrity from an alignment with the biggest names in the bass fishing industry including professionals who fish with BASS, FLW, and PAA. Cooperation from the anglers and their willingness to share is the catalyst for the growth of this series.