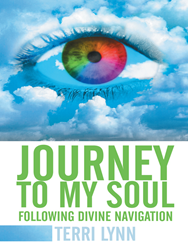 When you feel good, good things happen. Live happy!
NEWTOWN SQUARE, Pa. (PRWEB) October 31, 2014
Did you know the word happy is an acronym? Having All Power Propel You.
"Journey to My Soul: Following Divine Navigation" (published by Balboa Press) is the story of a woman who went through a personal, financial and spiritual crisis. In her memoir, Terri Lynn surrenders her life to God for the strength to carry on. Her story demonstrates that when God steps in, magic and miracles follow.
Lynn's memoir is a story of faith, love and optimism. "I tell how Divine guidance leads me into a living hell, guides me through the sadness, and delivers me to the positive side of pain; Happiness," she explains. "My journey deep within reveals to me my Soul, sets me free, and ignites my passion to motivate the world."
"Journey to My Soul" gives readers the tools to overcome hopeless situations by focusing on the positive aspects of any situation and thinking thoughts that serve a better life.
Through Lynn's personal stories, poems and advice based on her experiences, "Journey to My Soul" demonstrates that miracles are all around us, if we take the time to look. Lynn teaches readers how to journey within, that what we think matters and that what we feel matters even more.
Lynn says, "When you feel good, good things happen. Live happy!"
"Journey to My Soul: Following Divine Navigation" by Terri Lynn
Hardcover, $30.99
Paperback, $14.95
e-Book, $9.99
ISBN: 978-1-45254-505-9
Available at http://www.thinkhappybehappy.com, balboapress.bookstore.com, amazon.com and
barnesandnoble.com.
About the author
Terri Lynn is a Corporate Trainer and Business Development Manager for MMCO Auto, LLC. Terri recruits and trains the sales staff for three Audi centers, a Porsche center, a VW center along with three used car warehouses, and currently resides in Newtown Square. She is the mother of two grown sons who are her biggest blessing. She enjoys the outdoors, dancing, swimming, reading, writing, and most of all inspiring others to find happiness. "Journey to my Soul: Following Divine Navigation" is Lynn's first book.