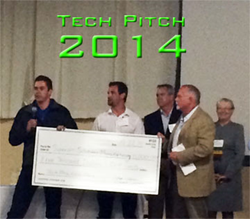 (PRWEB) October 29, 2014
Representatives from the online digital color printing company Docucopies attended the 4th Annual Tech Pitch competition in San Luis Obispo this month. The competition pits six startup companies against one another, competing both for prestige and for a $5,000 cash prize as seed money to bring their visions to fruition.
Much like ABC's "Shark Tank," representatives from each company pitched their ideas to a panel of industry experts and investors.
Superior Solutions Manufacturing took the prize. Their flagship product, LiftGator, is a removable and cost-effective lift-gate for pickup trucks. The company also took the honorary "audience choice" award.
But the company which most interested Docucopies.com's President and CEO, David Pressley, was not competing at all. Instead, this group of Cal Poly students demonstrated and promoted their suite of apps, known collectively as Monster Create, to their captive audience.
Their apps are aimed at unlocking the creative potential of the new generation of children, many of whom are already glued to their iPads and mobile devices, by allowing them to express their creativity through music, visual art and more. Their website states their vision:
"In an increasingly technological world, it's important that kids are aware of the computer as a powerful tool for the creation of content, and not just as a platform for consumption ... When kids build and imagine, the parts of their brains that schools rarely exercise are given the chance to grow and develop."
They have a 4.5-star rating in the Apple App Store, and future additions to this kid-oriented creative suite are on the horizon. Unfortunately they are not currently seeking outside investors.
Other startups competing in Tech Pitch included:

Salty Girl Seafood, Inc., who work with local fisherman to acquire, ship and track sustainable seafood to restaurants and markets around the country.
Tandemech Engineering, whose wall-climbing robots offer greater versatility in building and infrastructure inspection and maintenance.
The Cardboard Guys, who make eco-friendly, do-it-yourself cardboard furniture/art sets for children.
FuelBox, Inc., makers of on-the-go battery-backup solutions for mobile devices.
RVPlusYou, LLC, whose website links outdoor enthusiasts with RV owners who want to make income renting out their unused recreational vehicles.
For more information on Docucopies.com and their color printing services, including color copies, brochures, books, booklets, and now wide-format printing, visit them online at http://www.Docucopies.com.