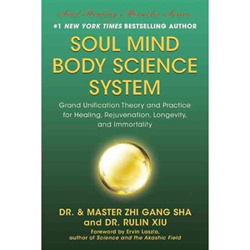 Phoenix, AZ (PRWEB) November 01, 2014
New personal video testimony shows Craig Adair's story about how his flu symptoms were relieved during a Soul Healing Miracles event with Dr. and Master Zhi Gang Sha. In this video testimonial, Craig Adair of Phoenix, AZ tells how he attended a local book signing event to meet Dr. and Master Sha while he was sick with the flu, and his illness was relieved during that event. "My mom asked me to go with her to see Master Sha at a local Barnes and Noble store. A couple of days before that I caught the worst cold. I felt miserable. My mom said let's go see Master Sha because he is the most powerful healer in the entire world." says Craig Adair. "It was weird because when I walked through the door, it felt like a weight was lifted off my shoulders. Master Sha came in and did his transmission thing, and as soon as he said it, my coughing and cold went away. My throat felt so much better and I was just in complete shock!" Craig adds, "It was at that time that I became a 100% firm believer in Divine Healing Hands, Soul Healing Miracles, Master Sha, and all of his work!" To watch Craig Adair's personal video testimonial, go to: https://www.youtube.com/watch?v=lpxx2oXfsvs.
Meet Dr. and Master Zhi Gang Sha, founder of http://www.drsha.com and the New York Times bestselling author of Soul Healing Miracles, in Phoenix, AZ for events that incorporate his newest Soul Mind Body Science teachings in a Soul Healing Miracles Evening with Soul Mind Body Science on Friday, November 7 (starting at 7:00 pm MNT; complimentary) leading into a life transforming Soul Healing Miracles with Soul Mind Body Science Weekend workshop on Saturday, November 8 and 9 (10:00 am-10:00 pm MTN; $150 including 1 guest pass) at Phoenix Airport Marriott, 1101 N. 44th Street, Phoenix, AZ 85008. For more information about attending these acclaimed events in person or via live webcast, go to http://www.DrSha.com.
Dr. and Master Sha, creator of Soul Mind Body Medicine™, will incorporate the Soul Mind Body Science System, a breakthrough teaching that aligns the fundamental scientific laws of the universe with his acclaimed Soul Healing Miracles, creating incredible blessings and self-healing practices that transform health, emotions, relationships, finances, and any aspect of life. "The Soul Mind Body Science System is a breakthrough system that introduces a scientific formula and practice to join soul, heart, mind, energy and matter as one, which is the ultimate truth to purify, heal, transform, and enlighten all life and return to the Source," says Dr. and Master Zhi Gang Sha.
Focusing on Soul Power, Dr. and Master Sha delivers soul wisdom to enlighten the soul, and soul healing for the spiritual, mental, emotional, and physical bodies. After showcasing his acclaimed Chinese calligraphy scrolls in numerous cities around the world and attracting thousands of people, Master Sha brings the Source Chinese Calligraphy Ling Guang Pu Zhao (Shining Soul Light) to Phoenix, AZ for registered participants to experience the powerful blessings contained in the calligraphy from The Source. Featured in Master Sha's 2014 national bestselling book, Soul Healing Miracles, the scrolls radiate the power of the Source to heal the soul, heart, mind, and body to transform the lives of all visitors who connect with the scrolls.
To register for these extraordinary events for November 7, 8, 9 in Phoenix, AZ or via live webcast, please go to http://www.DrSha.com.
Dr. and Master Zhi Gang Sha is the world-renowned miracle soul healer. He has created thousands of soul healing miracles worldwide in the last ten years (http://www.youtube.com/zhigangsha). He is the founder of Soul Mind Body Medicine™. He was trained as a conventional medical doctor in China and a doctor of traditional Chinese medicine in China and Canada. The founder of the Institute of Soul Healing and Enlightenment™ and the Love Peace Harmony Movement™, Dr. and Master Sha is a grandmaster of many ancient disciplines, including tai chi, qigong, feng shui, and the I Ching. Master Sha is also an expert in the most advanced cellular healing science now occurring in China. In the West, he is involved in breakthrough research on the effects of spirit on the human system. Dr. Sha was named Qigong Master of the Year at the Fifth World Congress on Qigong. In 2006, he was honored with the prestigious Martin Luther King, Jr. Commemorative Commission Award for his humanitarian efforts.
An international bestselling author, Master Sha is author of ten books in the Soul Power Series published by Simon & Schuster (Atria Imprint), with each book reaching the New York Times bestselling list and four of them reaching #1. Master Sha's Soul Healing Miracles book published in 2013 by BenBella was instant bestseller on USA Today and Wall Street Journal. His newest book, Soul Mind Body Science System will be launched in Arizona during the Tao Retreats in November, 2014.
Dr. and Master Zhi Gang Sha has more than 1,000,000 views on his Youtube channel (ZhiGangSha) where personal video testimonials show life-changing results. Visit his thriving Facebook page for daily blessings, healing techniques and news about workshops, webcasts and book signings (http://www.facebook.com/DrandMasterSha). The Soul Healing Miracles™ Chanting Channel fosters a soul healing community to learn and use chanting and soul songs for personal, spiritual, mental and soul development, 24/7. For more information, visit http://www.DrSha.com.