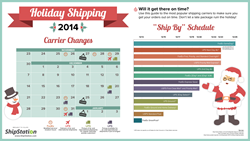 "By providing an easy-to-understand infographic with shipping cutoff dates, we hope to help our customers get their shipments sent in time for Christmas, and also help anyone sending a package avoid the heartache of missing a Christmas shipping deadline."
Austin, TX (PRWEB) October 30, 2014
Today ShipStation, the leading web-based e-commerce shipping solution, posted a new infographic offering ship-by dates for holiday shipping. The infographic clearly lays out the closures and ship-by dates for the top three U.S. carriers (FedEx, UPS and USPS) for the 2014 holiday season. It's helpful for both online shoppers and sellers to make sure that orders, and the gifts they likely contain, arrive at their destinations when expected.
The infographic is available at http://www.shipstation.com/blog/handling-your-business/holiday-ship-by-and-carrier-closure-dates-for-2014/.
"The holiday season is critical for our customers and our loved ones," says ShipStation's VP of Marketing, Robert Gilbreath. "By providing an easy-to-understand infographic with shipping cutoff dates, we hope to help our customers get their shipments sent in time for Christmas, and also help anyone sending a package avoid the heartache of missing a Christmas shipping deadline."
ShipStation encourages distribution of the infographic, which is also available in several sizes.
About ShipStation
ShipStation is the leading web-based shipping software that is built to help online retailers organize and process their orders, while fulfilling and shipping them quickly and easily. With automatic order importing from over 50 shopping carts and marketplaces, including eBay, Amazon, Shopify, Bigcommerce, Volusion, Magento, Stitch Labs, and more, and automation features like custom hierarchical rules and product types, ShipStation helps online retailers ship out their orders from wherever they sell, however they ship. For more information, visit http://www.shipstation.com.