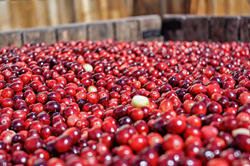 Affinity toward the cranberry is strengthening as Chinese consumers become increasingly aware of the berry's health benefits, versatility and many culinary applications. ~ Scott J. Soares, Executive Director, CMC
Wareham, Mass. (PRWEB) November 03, 2014
Fresh on the heels of the Cranberry Marketing Committee's (CMC) release of a report on the multi-billion dollar positive economic impact of the cranberry industry in the United States, comes recent data showing steady growth of international export activity. China, a target market identified by the CMC, continues to demonstrate great potential with an 86% increase in US cranberry imports for 2013 and a 104% increase for 2014. For the 2013 crop year (September 2013 – August 2014) the CMC recorded an increase of more than 3 million pounds of cranberries being exported to China.
"China is a new and exciting emerging market for US grown cranberries," said Scott J. Soares, Executive Director, CMC. "The opportunity identified by the CMC's 2012 research has rung true and the affinity toward the cranberry is strengthening as Chinese consumers become increasingly aware of the berry's health benefits, versatility and many culinary applications."
Key to encouraging growth in cranberry exports to China and abroad has been creating top of mind awareness to drive demand for AMERICA'S ORIGINAL SUPERFRUIT™. Recently, leading media professionals and power bloggers from Women's Health, China Food, Sina Fashion, Sina Eladies, Trends Cosmopolitan, Shanghai Times, Hunan TV, and Pan Pan Cat were invited to Massachusetts to get a hands-on, 360-degree snapshot of U.S. grown cranberries – a fruit that today is used across the culinary spectrum from savory to sweet and in many different product forms including fresh, frozen, juice, dried, sauce and powder.
Against the backdrop of a clear blue sky and autumn-turning leaves, participants were treated to a bird's eye view of the harvest by Firefly Helicopter Services as well as getting "up-close and personal" as they waded into a crimson pool of ripe berries to help with the harvest. Guests also got a close-up view of cranberry processing to see innovative handling and quality assurance techniques, learned about the growing compilation of research related to the cranberry's health benefits in the diet, and sampled a variety of cranberry specialty foods and beverages at a special "Après Bog Tasting" made possible by the Massachusetts Specialty Foods Association.
Media were interested to see the wide breadth of cranberry products ranging from jams, relishes, cheeses, cookies, trail mix, wine, sauces, and even a cranberry moonshine. Companies providing samples included Boxford Bakehouse, Cabot Creamery, Cape Cod Provisions, Deborah's Kitchen, Doves & Figs, Frutations, Hardwick Winery, New England Cranberry, New England Natural Bakers Inc., Onyx Moonshine, Truro Vineyard of Cape Cod and Venus Wafers.
Yebo Hu, a journalist from Women's Health magazine in China, has already embraced cranberries in her family's diet and likes to give her two-year-old son dried cranberries for breakfast. "He loves to eat them every morning," said Hu.
Danniel Dong and Mabel Zhaung, CMC representatives from China, explained that cranberries in baked goods and drinks are becoming very popular. "Baking is not a common practice in Chinese cooking but many young people are now very interested in learning this art of cuisine," said Dong. "We have begun to offer a number of master cooking and mixology classes to introduce people to the many things they can do with cranberries" added Zhuang.
Like most imported products, cranberries are still relatively expensive in China and have only been available in limited quantities. But with a current surplus in the U.S., Mr. Soares sees opportunity to making cranberries more readily and regularly available. By inviting media to see the harvest process up close, the CMC is hoping to impress upon China's 1.3 billion population and potential consumers about the unique qualities and increasing availability of US grown cranberries.
The media tour was partly funded through a USDA Specialty Crop Block Grant from the Massachusetts Department of Agricultural Resources and in collaboration with the Cape Cod Cranberry Growers Association and Massachusetts Office of Travel and Tourism. "Thanks to growers opening their farms, our media guests are returning home with rich stories to share with their audiences," said Soares.
About the Cranberry Marketing Committee (CMC)
The CMC was established as a Federal Marketing Order in 1962 to ensure a stable, orderly supply of good quality product. Authority for its actions are provided under Chapter IX, Title 7, Code of Federal Regulations, referred to as the Federal Cranberry Marketing Order, which is part of the Agricultural Marketing Agreement Act of 1937, as amended. This Act specifies cranberries as a commodity that may be covered, regulations that may be issued, guidelines for administering the programs, and privileges and limitations granted by Congress. For more information about the CMC, visit uscranberries.com or follow @uscranberries and Cranberry Cravers on Facebook.