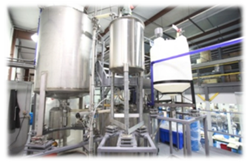 EASTON, MARYLAND (PRWEB) October 30, 2014
Aphena Pharma Solutions has recently added a new blending area to its Easton, Maryland, facility, giving the company the ability to offer its clients heat or cold blending for large volumes of ointments, suspensions, creams, lotions, gels and other products that require heating and/or cooling.
The new area includes the following pieces of equipment:

Lee 1,000- and 5,000-gallon tanks, both with side and bottom sweep
A Silverson 250-gallon jacketed with mixer
Cold-blending tanks with capacities of 1,100, 750 and 500 gallons
A new reverse osmosis USP purified water system that can process more than 6,000 gallons per day
These additions extend Aphena's blending capacity to well over 2.9 million gallons annually, with heating capabilities in the range of 120-180 degrees F and the ability to offer suspension blending and emulsion blending.
Further expansions planned for the near future include an explosion-proof blending area that includes 3,000-, 2,000-, 1,000- and 500-gallon tanks to handle solvent and volatile blending (such as hand sanitizers, wart removers and liquid bandage products).
For more information about Aphena Pharma, visit http://www.aphenapharma.com or call 1-866-465-4506.