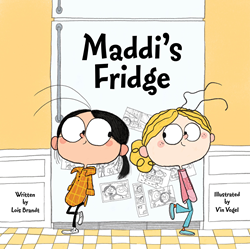 Seattle, WA (PRWEB) October 30, 2014
Fiction writer Lois Brandt's recently published picture book, illustrated by Vin Vogel, addresses a silent and serious problem – childhood hunger in America.
"When I was little I swung open my best friend's refrigerator, only to find that her family was completely out of food," Brandt says. "I didn't know what to do as a child facing this horrible issue. I didn't know how to help my friend. That's why I wrote Maddi's Fridge."
Childhood hunger in America is far from rare; 20 percent, or 1 in 5, American children face the prospect of empty refrigerators, according to a 2012 report from the United States Department of Agriculture.
"What amazes me the most, even though I know the statistics, is the number of people who come up to me after hearing about 'Maddi's Fridge' and tell me their own experience of either not having enough food as a child or not being able to feed their kids as a parent."
"I wrote one story of childhood hunger in America," Brandt says. "There are millions of similar stories out there." Sixteen million children wake up each day wondering if they will have enough food to eat. These children and their parents are our friends, classmates and neighbors.
"Maddi's Fridge" has received strong early praise, including:
"This title is notable. The bright, friendly illustrations soften the topic while still conveying the characters' difficult feelings, such as worry and embarrassment. Gentle, age-appropriate humor releases the tension, keeping readers engaged as Sofia discovers how to best help her friend. . . . A thoughtful and well-executed look at the challenge of childhood hunger."
—Kirkus Reviews
"I really admire Lois Brandt for writing about those in need without making this an 'issue' book. Maddi's Fridge is first and foremost a story—and a good one."
—Kirby Larson, Newbery Honor–winning author, Hattie Big Sky
" 'Maddi's Fridge' gives teachers the perfect background for discussing the diversity found in most of our own classrooms in child appropriate ways. I know some of my students will resonate with Maddi's problems and some will be just as shocked as Sofia to find the fridge empty at a friend's house. So crucial to picture books, you'll find the illustrations just as wonderful as the text."
—Kathleen Wright, KidPeopleClassroom.com
About Lois Brandt
Lois Brandt's fiction has appeared in Highlights and other fine children's magazines. "Maddi's Fridge," (http://www.MaddisFridge.com), illustrated by Vin Vogel, is the first picture book to address child hunger in the United States. It was inspired by Brandt's childhood memory of opening her friend's refrigerator and finding only condiments and a lunch milk carton her friend had saved from school for her little brother. Ten percent of proceeds from sales of "Maddi's Fridge" go to hunger solutions. Brandt, who holds an MFA from Northwest Institute of Literary Arts, served as a Peace Corps volunteer in West Africa.