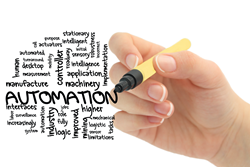 Houston, TX (PRWEB) October 30, 2014
A large percentage of the world is managed by automated technologies, products and services. Investing in automated systems is proven to save labor costs many industries because the technology has the ability to automate tasks; which in turn saves time and money, make things easier, and helps to ensure operations are completed efficiently.
GTG's recently published white paper highlights how automated technology can improve seven different areas of a business, such as customer service, inventory management, freight accounting, carrier selection, delivery method selection, electronic data interchange, and organizational management.
For example, electronic data interchange (EDI) operations can be improved by implementing automated technology to share information in a timely and cost efficient manner. GTG highlights within the white paper that business cycles are 61 percent faster and more efficient when a TMS is utilized by a shipping, logistics, or transportation company, and 30 to 40 percent of operational errors can be reduced by eliminating human error.
GTG's fifth white paper on will be released on Thursday, November 27th and will discuss Tech Talk: Maintaining Rapport in a Technologically-Driven Business. The new white paper is available for PDF download at no cost.
To read more information about GTG's TMS solutions and to obtain a copy of the white paper, click here.
About GTG Technology Group, LLC:
GTG Technology Group, LLC helps to build software to manage global transportation management systems (TMS) for all sizes of intermodal and drayage transportation companies. GTG is dedicated to providing TMS solutions designed to provide end-to-end visibility and connectivity. GTG's software was engineered to help businesses in the transportation industry overcome challenges faster, cheaper and more efficiently.