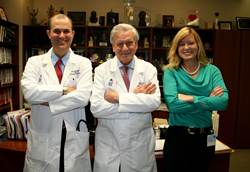 New York, NY (PRWEB) October 30, 2014
The Executive Health Program of Mount Sinai Heart at The Mount Sinai Hospital is one of the nation's top 10 executive wellness programs, according to Worth magazine.
In its October/November 2014 issue, the magazine recognizes Mount Sinai's program for its ability to connect its Executive Health Program patients with the most experienced medical professionals at one of the nation's top hospitals. Also, uniquely, Mount Sinai has designed its in-depth patient care program around screening for risk factors of preventable illnesses like heart disease.
The program offers business professionals a comprehensive health assessment for diagnostic and preventive medical care. The one-day session empowers each patient to take control of their health with preventive action. Each patient undergoes a medical history interview, non-invasive exams, and laboratory tests. Before the patient leaves Mount Sinai, health program staff share the test results and make recommendations to address current or potential health issues.
"After being evaluated by top doctors and having advanced testing all on the same day, each patient leaves Mount Sinai at the end of the day with their results and real peace of mind," says Sarah Pesce, ANP-BC, Nurse Practitioner and Director of Business Development for the Executive Health Program at Mount Sinai Heart. "Our program offers access to our senior physicians, our signature Ambassador Service, cutting-edge imaging technology, rapid test turnaround, and the resources of The Mount Sinai Hospital."
"Mount Sinai is among the nation's top hospitals, and also a top 10 ranked hospital for cardiology and heart surgery," says Kevin G. Dunsky, MD, Director of the Executive Health Program of Mount Sinai Heart at The Mount Sinai Hospital. "Our longstanding tradition of excellence in clinical care and pioneering research draws patients from around the globe to our leading, preventive medicine program."
"Our goal at Mount Sinai is to help you and your employees live longer and healthier lives through the highest measures of preventive care," says Valentin Fuster, MD, PhD, Director of Mount Sinai Heart and Physician-in-Chief of The Mount Sinai Hospital. Dr. Fuster is a global leader in cardiovascular medicine and preventive medicine for more than three decades. "Our expert team of specialists at Mount Sinai Heart work seamlessly together with you to conveniently and rapidly provide the innovative medical care you need."
In addition, Mount Sinai's Executive Health Program partners with large companies, benefits specialists, human resources departments, business owners, and independent professionals to keep employees engaged in their health while tailoring to individual needs.
To learn more about the Executive Health Program at The Mount Sinai Hospital, call: 212.241.8000 or visit http://www.mountsinai.org/patient-care/executive-health-program.
About the Mount Sinai Health System
The Mount Sinai Health System is an integrated health system committed to providing distinguished care, conducting transformative research, and advancing biomedical education. Structured around seven member hospital campuses and a single medical school, the Health System has an extensive ambulatory network and a range of inpatient and outpatient services—from community‐based facilities to tertiary and quaternary care.
The System includes approximately 6,600 primary and specialty care physicians, 12‐minority‐owned free‐standing ambulatory surgery centers, over 45 ambulatory practices throughout the five boroughs of New York City, Westchester, and Long Island, as well as 31 affiliated community health centers. Physicians are affiliated with the Icahn School of Medicine at Mount Sinai, which is ranked among the top 20 medical schools both in National Institutes of Health funding and by U.S. News & World Report.
For more information, visit http://www.mountsinai.org or find Mount Sinai on Facebook, Twitter and YouTube.