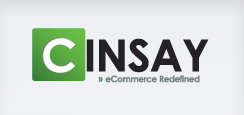 Video holds the highest conversion rate of any form of online marketing – ranging from 2.5% to as high as 10% in some of Cinsay's merchant stores
Austin, TX (PRWEB) November 18, 2014
Cinsay, the world leader in sharable video commerce, has recently increased views, engagement and sales to its (Small Medium Businesses) SMBs, entertainment and shopping sites and Facebook pages. To grow web and mobile traffic to both its Video Store content and traditional ecommerce pages, Cinsay is leveraging social sites like Facebook and Twitter with paid 'boost' posts, and targeted ad campaigns that continue to play into the effectiveness and conversion rates of its multi-patented shareable and transactional video player technology.
A large amount of new video views are coming from social media networks including Twitter and Facebook fan pages, boost posts and social shares inside and outside of Cinsay's video platform. The ability to highly target potential shoppers and transact at the 'point of watching', based on location, age, gender and specific interests, has increased video views and 'take actions' by an exponential factor. Costs per lead for the various shopping channels and specific product landing pages has continued to drop from an average of $1.20 earlier to just above $0.54 per CTA (Call to Action). Successful campaigns are seeing an increase in lead generation and commerce by as much as 200%.
Turning Fans into Customers
One of the recent shopping and video content success stories is Shop Strokers Dallas, which launched its live video channel, StrokersDallasTV.com and ShopStrokersDallas.com in August. The sites broadcast a live-stream HD video each weekend from the venue featuring live music, bikini contests and an impressive array of customized motorbikes. Biker fans from around the world to 'around the block' can access the video for free and check out new motorbike models from the Victory brand, custom designs of Harleys plus exclusive segments with Rick Fairless, the owner of Strokers Dallas.
"We're seeing people from all over the US and world tuning in, watching, then sharing the live and archived Cinsay video store inside and outside of social media. Purchases being made include t-shirts, caps and hoodies as well as limited edition items," said Christian Briggs, co-founder and CEO of Cinsay. "Cinsay empowers SMBs' and entertainment companies with Watch. Shop. Share. patented technology. This helps to turn viewers into shoppers and then shoppers into marketers as they continue sharing the Cinsay video store to their friends, family and colleagues," Briggs added. "It's the ultimate platform to extend your products and services worldwide to current and new customers in and out of social media with potentially less costs."
Cinsay continues to see an increase in traffic and conversions in all its other entertainment and shopping sites powered by its Video Store as the holiday shopping season begins in November. Race fans of IMSA, Global Rallycross, IndyCar and the new Formula E series have been driving an increase in sales for ShopRisi.com, ShopAndretti.com and ShopMarioA.com – these sites feature exclusive official branded racing merchandise and limited edition autographed numbered items for select drivers of Andretti Autosport and the most recognized race car driver in history, Mario Andretti.
SureToneLive.com and ShopSureToneLive.com, showcase the new music channel developed between Cinsay and Suretone Entertainment. Those sites are also receiving increased traffic from fans of Fleetwood Mac and other bands featured in this summer's live HD broadcasts of concerts and music festivals.
MyCinsay.com, the shopping portal featuring small merchants, big brands, affiliates and nonprofits, has also benefited from more views and sales as well. Merchants that are using Cinsay's marketing services like SEM (Search Engine Marketing), Facebook Boost Posts and PR distribution, benefit the most from a collective and targeted marketing campaign.
Video Continues to Grow
Online and mobile video ads are growing by double digits. According to an October 2014 study by Forrester Research, video ads will represent almost 55% of online display ads by 2019. Video also holds the highest conversion rate of any form of online marketing – ranging from 2.5% to as high as 10% in some of Cinsay's merchant stores. Briggs said, "The proof of concept has happened. Video is powerful for marketing and as the media continues to be the most compelling form of advertising, and because we empower transactions inside the video, Cinsay is the single best solution for any business selling online."
To learn more about Cinsay and how small businesses to Fortune 100 companies are growing their online sales, visit http://www.Cinsay.com or call 1-855-725-2462
About Cinsay
Austin-based Cinsay has created a next-generation ecommerce, viewer interactive, video-based platform for any size business. Cinsay's syndicatable technology enables anyone to sell products, display printable coupons, capture donations, and generate leads all inside its multi-patented Video Smart Store™ (VSS) technology. Along with being the premiere video commerce provider for small and medium businesses, Cinsay is adding new exclusive content channels for sports, music and movies aligned with partners including Andretti Autosport via AndrettiTV.com and Suretone Entertainment via their site SureToneLive.com and has been selected as a software provider to SMBs via Yahoo's Commerce Central.
Forbes named Cinsay one of "America's Most Promising Companies" while eTail Conferences named Cinsay a "Rising Star in innovation" for 2012. Red Herring also selected Cinsay for the "Top 100 Companies in North America" for 2014. Cinsay's ecommerce video-based platform can be used for any individual or business. For more information, please visit http://www.cinsay.com or call 855-725-2462.
One or more of the following patents may protect Cinsay's software, systems, and/or services. U.S. Patent Nos. 7,840,415; 7,987,098; 8,769,053; 8,782,690; 8,813,132; 8,312,486; 8,533,753; and 8,549,555. Visit http://www.cinsay.com/patents for more information.