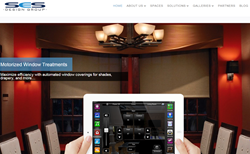 Our goal with this new website is to provide an even more robust and informative destination for smart technology fans...
Houston, TX (PRWEB) October 31, 2014
SES Design Group (formerly Sound Entertainment Systems and winner of the ProSource Integrator of the Year for 2013) today announced the launch of their new website and a redoubled focus on customer communication.
Features of the new site include a more compelling overall resource for clients, architects and builder partners with rich and engaging content, a showcase of recent client work, ongoing blog production with insights and recommendations on a variety of technology subjects, and a gallery of smart technology options for the different spaces within a home.
When SES began in 2004, they were focused on being a full-service residential and commercial custom electronics and design integration company whose primary goal was to make home or business systems safe, elegant, fun and easy to use. Then, with the growing consumer interest in whole home automation, green energy monitoring, smart home solutions and more, the firm expanded rapidly. Their online presence required some dedicated attention to catch up.
Michael Beam (Owner) always recognized that the customer relationships were just as important as the quality of the product SES integrated into the media rooms or whole-home automation systems for clients. The goal now was to minimize any obstacles between the clients and his crew of professionals and a web/social presence upgrade was in order.
"When technology is what you do, sometimes attending to your own web presence can feel less pressing," said Beam. "You never lose sight of the customer relationship in the moment, but making sure customers can find you to begin with, and then being ready to respond immediately to queries from prospects, that required some retooling. Our goal with this new website is to provide an even more robust and informative destination for smart technology fans, as well as an improved means for them to interact with SES Design Group."
Visit the all-new SES Design Group website at sesdesigngroup.com.
About SES Design Group
SES Design Group is comprised of world-class experts in every field whose number one priority is to provide the best products and services to our clients. We listen to our client's goals and desires for their new system and educate on the latest technologies and possibilities. Whether you're a new customer interested in our services, or an existing customer seeking support, we would love to hear from you.