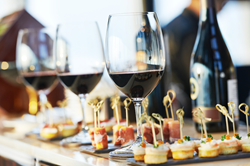 Fun Places to Retire in the Southeast
Savannah, Georgia (PRWEB) November 28, 2014
Foodies and oenophiles – pack your bags and hop a train to Georgia! It's time for an entire week of fabulous wining and dining at the Savannah Food & Wine Festival. From November 10 through 16, enjoy wine dinners, tastings, classes, exhibits, art, authors, and a whole lot of Southern hospitality throughout unique and charming seaside city of Savannah. Festivities culminate in the main event on Saturday – A Taste of Savannah.
This year's Taste stretches from Ellis Square to Johnson Square and features food from some of best Savannah restaurants, hundreds of spirits and wines, a Belgian beer garden, cooking demonstrations, art, a Celebrity Author's Tent, Bartender's Challenge, Waiter's Race, activities for kids, and more. Many of the individual events are located close to downtown Savannah Georgia hotels, so make a reservation and check out some of these Festival highlights:
Monday, November 10 - Bethesda Farm to Table Dinner at Bethesda Academy, featuring Georgia Grown products and local chefs. Reception at 5:00 PM, dinner at 6:00 PM.
Tuesday, November 11 - Master Class Series begins at the 700 Kitchen Cooking School, Mansion on Forsyth Park. Join three top chefs and a Master Sommelier in this series of four interactive and highly enjoyable food and wine classes, presented from Tuesday through Thursday.
Wednesday, November 12 - Celebrity Chef Tour at The Manson on Forsyth Park. Reception at 6:00 PM, dinner at 7:00 PM.
Thursday, November 13 -
Grand Reserve Tasting at the Westin Savannah Harbor Golf Resort & Spa, 5:30 to 7:30 PM.
Friday, November 14 -
Learning Experiences at the Savannah International Trade & Convention Center include six mouthwatering demonstrations of southern cooking, food and wine pairings, the art of bourbon, and grilling techniques.
Saturday, November 15 -
Taste of Savannah at Ellis Square from 1:00 to 5:00 PM (VIP Lounge ticketholders have early access at noon for tastings of select wines, craft cocktails and delicious treats, as well as meet-and-greet with celebrity winemakers, authors and chefs).
Sunday, November 16 -
Jazz & Bubbles Brunch at Aqua Star at the Westin Savannah from 12:30 to 3:30 PM. What a lovely way to say "Until next year, ya'll."
WHERE TO STAY
Savannah has any number of quality lodging choices, but here are three excellent downtown Savannah Georgia hotels to consider:
Andaz Savannah, 14 Barnard Street on Ellis Square – sleek, arty, urban, relaxed. This Historic District hotel is walking distance to cafés, top-rated restaurants, shopping, historic homes, Ghost Tours and the river front. Very southern yet very modern, guests love the hospitable service, welcome cocktail, complimentary in-room snacks, and inviting breakfast buffet. The hotel has a pool and workout room, so no need to forego your fitness routine for travel.
The Bohemian Hotel Savannah Riverfront, 102 West Bay Street – vintage, warm, oak and brick, antiques. Wake up to a view of the Savannah River before a day of Broughton and River Street shopping, then enjoy cocktails, dinner, and sunset from the rooftop terrace. This eclectic boutique hotel offers top-notch service in a great location. Spotless guestrooms include all the modern conveniences, including complimentary Internet access.
Westin Savannah Harbor and Golf Resort on Hutchinson Island – golf, beaches, luxury, peaceful. This modern resort hotel in the heart of the historic Savannah River District has it all including a spa, a fitness center, and dock and marina services. A complimentary water ferry ride will take you to River Street where you'll be within walking distance or a carriage ride away from popular Savannah attractions. Many 2014 Savannah Wine & Food Festival events – the Grand Reserve Tasting, Le Grande Cochon, Winemaker Cellar Dinner, and the Jazz & Bubbles Brunch – are hosted by the Westin Savannah Harbor. How convenient!
THE SAVANNAH LIFESTYLE
The "Hostess City of the South" is renowned for its historic past, its checkerboard of 22 park-like squares, and its unique culture – so vividly painted by John Berendt in his New York Times bestseller Midnight in the Garden of Good and Evil. In addition to an extremely healthy food and wine presence, modern day Savannah offers a lifestyle that is increasingly attractive to Boomers and retirees. Shopping, museums, the arts community, period architecture, educational and lifelong learning opportunities, and a long list of intriguing residents, past and present, are just some of the draws. Homes for sale in Savannah Georgia average in the $250K selling price range, making it an affordable choice, as well. In 2012, this coastal Georgia jewel was named one of the Best Cities to Retire In by Forbes magazine, and Money Magazine named Savannah one of the Top 100 Places to Retire. We can't disagree!
Savannah, founded in 1733 and the oldest city in Georgia, is situated along the intracoastal waterways, 20 miles upriver from the Atlantic Ocean. Although buffered by barrier islands of the Georgia northern coastal region, an occasional hurricane can add some excitement. With a moderate to tropical climate, residents enjoy water and outdoor sports almost year around. Golf, fishing and boating are favorite pastimes. The beaches of Hilton Head Island and Tybee Island are short drives from downtown Savannah. Dozens of beautiful gated and master-planned communities in Savannah, represented by some of the best real estate agents in Savannah GA, take full advantage of Lowcountry waterways and tranquil landscapes.
Life in Savannah is punctuated by culture and the arts, offering such attractions as the incredible Telfair Museums, The Savannah College of Art and Design, Savannah Dance Theatre, the Savannah Philharmonic, The Savannah Jazz Festival, the Savannah Theatre, and many other arts organizations. Over 200 festivals take place annually in and around Savannah celebrating the cuisine, culture and history of the area. Historic homes, cemeteries and forts offer tours. Local universities, such as Savannah State and Armstrong State, and satellite campuses such as Georgia Tech and Georgia Southern provide endless opportunities for academic experiences and lifelong learning.
Savannah's neighborhoods are diverse, offering something for all tastes. In addition to the Savannah Historic District, there are four other historic districts in the greater Savannah area. More than 100 neighborhoods dot Downtown, Midtown, Southside, Eastside, Westside, and Southwest Savannah. There are approximately 2,000 homes for sale in Savannah, Georgia, at any given time – with a buyer's market currently prevailing in many quarters. After a week of Savannah fun, food, hospitality and culture, folks just may decide Savannah is the place to spend the next phase of life.
About Real Estate Scorecard:
Real Estate Scorecard writes unbiased real estate reviews providing in-depth information about popular gated communities in Florida, Georgia, North Carolina, South Carolina and Tennessee, all in an effort to help people discover where to retire in the Southeast.
Website: http://realestatescorecard.com