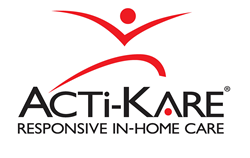 With our new Acti-Vate program and suite of services, we are renewing this commitment to helping seniors live active, healthy lifestyles by introducing a whole body approach to care.
(PRWEB) November 03, 2014
Acti-Kare has become an industry leader by offering high quality home care to seniors and other clients needing assistance, such as new mothers and their children, those recovering from surgery or other ailments, and even pets. But what really makes Acti-Kare stand out is its focus on active living.
"At Acti-Kare, we have always tried to promote health through active living, whatever that may look like for each individual we care for, because we truly believe in the healing power an active lifestyle can affect," adds Adam Pruitt, Director of Operations for Acti-Kare, Inc. "With our new Acti-Vate program and suite of services, we are renewing this commitment to helping seniors live active, healthy lifestyles by introducing a whole body approach to care."
Based on clinical studies connecting fatigue and depression to poor health, Acti-Kare has teamed with a group of healthcare professionals to create its Acti-Vate program, which promotes living life to its fullest potential through a comprehensive program encompassing nutrition, movement, and social & cognitive stimulation. The new Acti-Vate program centers around a mind-body-spirit approach and focuses on care services which support the individual client as a whole by promoting a healthy, active lifestyle. These services focus on three core principles:
Mind

Acti-Vate programs include mental exercise to keep cognitive functioning working at its peak. Specific activities might include solving word problems, playing games, working puzzles, solving riddles, working with money, or discussing current news/trends.
Body

Acti-Vate programs also focus on the importance of good nutrition for a healthy lifestyle. Acti-Kare's new programs will include proper education for its caregivers and clients on healthy shopping, label reading, multiple use ingredients, and food preparation. Acti-Vate promises to make mealtime fun again by involving the client in planning a menu, shopping for food, reading recipes, or cooking if they're able, essentially using social interaction to reengage clients in the joy of food preparation.
Functional movement is another important part of the new Acti-Vate program for seniors. Activities are designed to increase range of motion, strength, and flexibility for seniors with all levels of functioning. The ultimate goal is increased energy levels, decreased fall occurrences, and overall improved mood. This may include assisting the client with physical activities they enjoy such as cooking, gardening, cleaning, going for a walk, games that involve whole body movements, core movements from a wheelchair, or even traditional exercise if the client feels able – even the smallest efforts can make a huge difference!
Acti-Vate also helps maintain drug efficacy through medication monitoring including ensuring the proper dosage, timing, and drug-food interactions for its clients. This may include making sure medications are taken at the same time daily, educating the client on which medicines may be taken with/without food, or foods to avoid with specific medications, helping the client keep a medication log, and providing education on filling out a medication planner and ensuring drug compliance.
Spirit

Sensory stimulation activities are particularly beneficial to clients with dementia. Using everyday objects to stimulate the 5 senses can have a profound impact on a client's mood, self-esteem, and well being. These sensory stimulation activities include interactions with different textures, sounds, scents, colors, and tastes.
And the Acti-Vate program places a strong emphasis on helping seniors engage in therapeutic recreation activities as well, such as listening to music from their youth, expressing emotions through art, engaging in reminiscing activities, taking nature walks, and taking part in hobbies they once enjoyed.
Once the Acti-Vate program is rolled out, clients can expect to see all aspects of this new mind-body-spirit connection implemented into their care plans. Acti-Kare is excited to continue to support seniors, and all of the clients it serves, in leading long, healthy, happy lives.